CALM THE CHUMS
MENSTRUAL PAIN RELIEF
India's 1st Nano technology, Patent applied based Oral strip with Clinically Tested ingredient VAC  also known as Chasteberry imported from Germany with a perfect combination of Fortis Ab Iron to help prepare you for the monthly periods with ease and comfort. Refreshing taste of Cranberry to make it a kicking day.
No more medicines, Gummies, heating pads or feeling low, Just place it & Calm it !!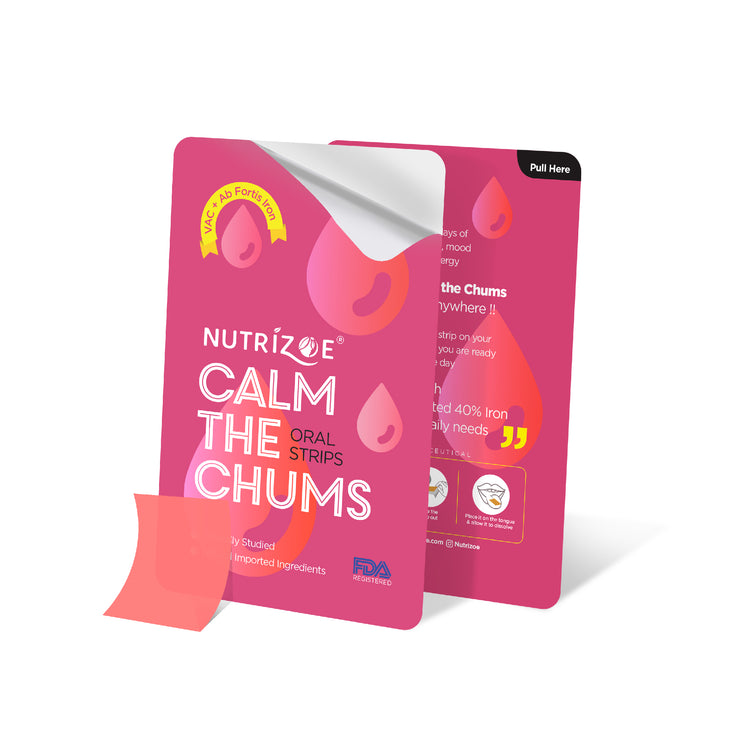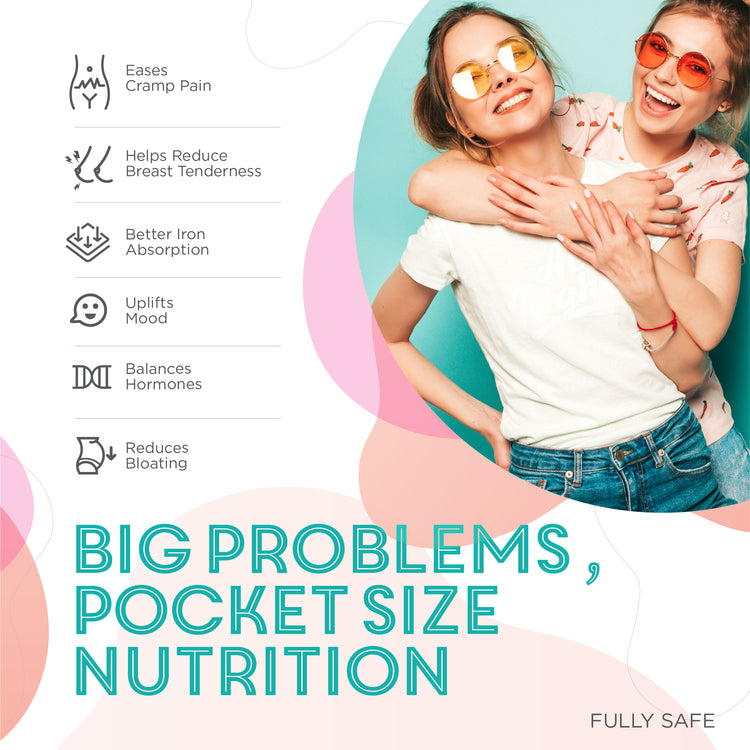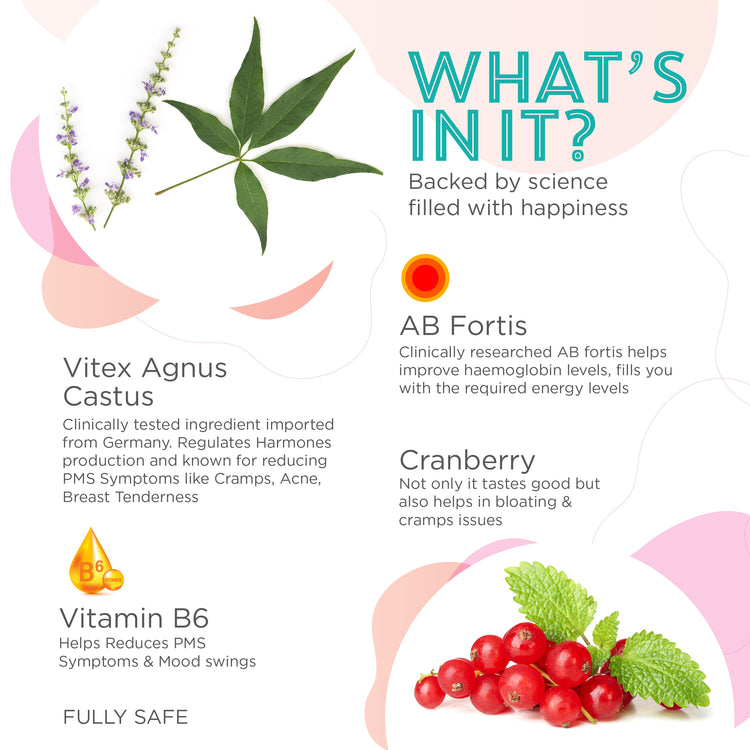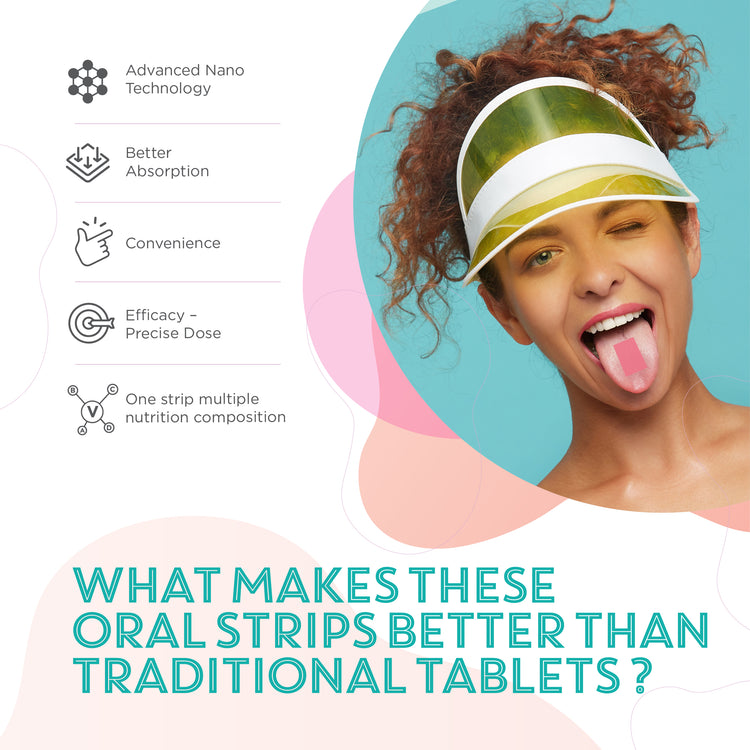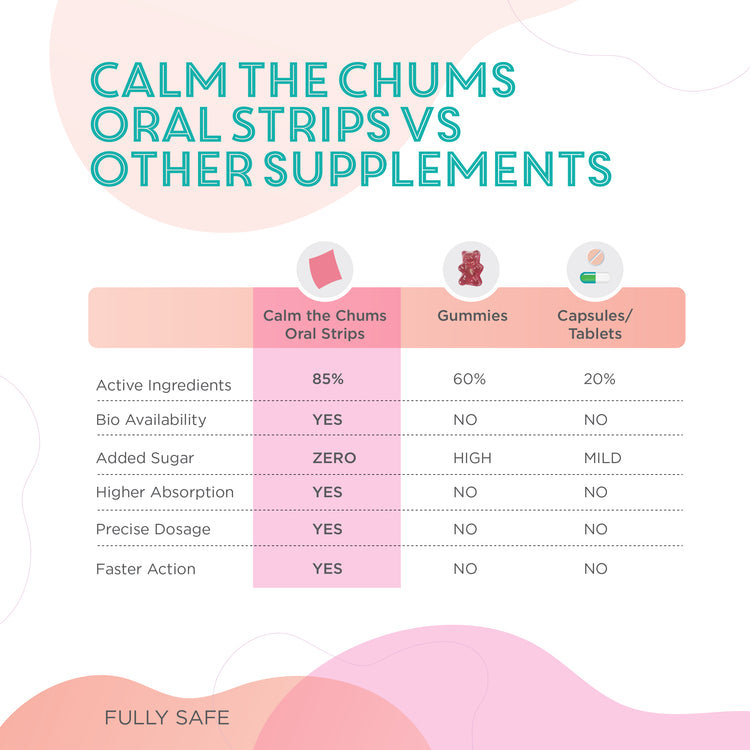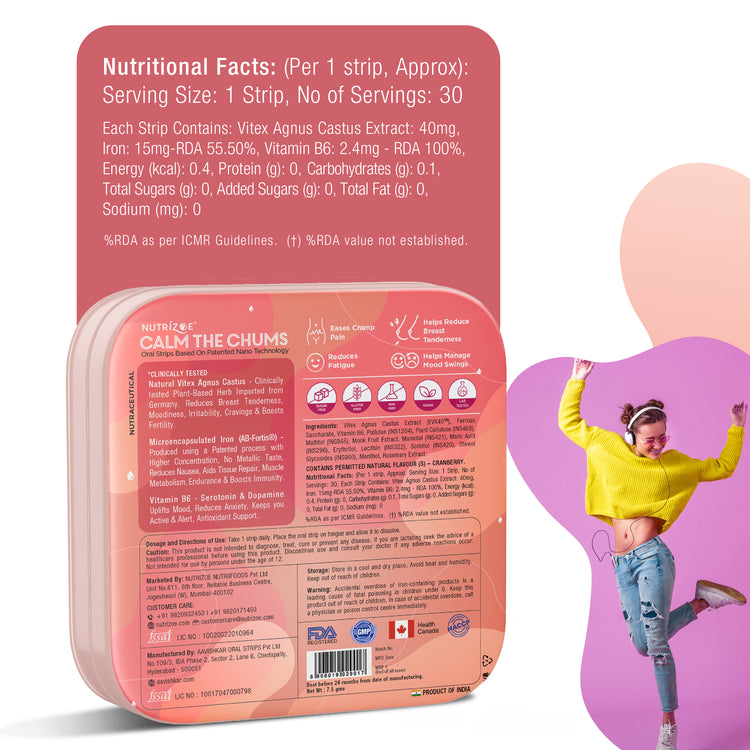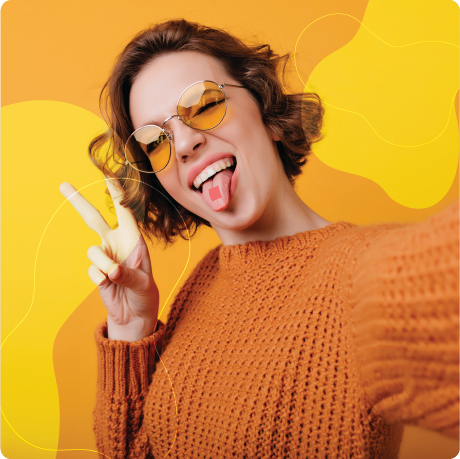 India's 1st Nano Technology based Oral Strip with all Natural Combination for Period pain & Anaemia.
Clinically tested ingredients sourced from Germany like VAC aka Chasteberry along with Ab+ Fortis Iron and Vitamin B to ease the discomfort of period cramps, Mood swings, Breast tenderness, Low energy. Helps Uplifts Mood, provides energy & prevents Iron deficiency.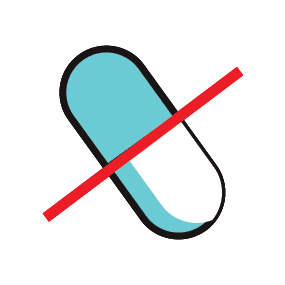 No Medicines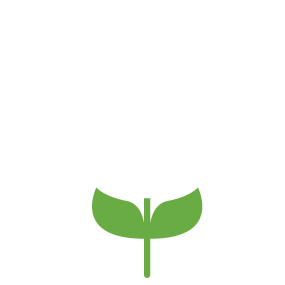 Completely Natural solution

Non Hormonal treatment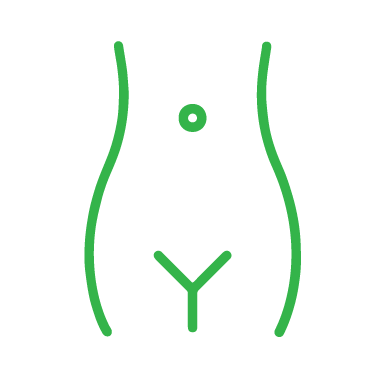 Reduces Periods Cramps pain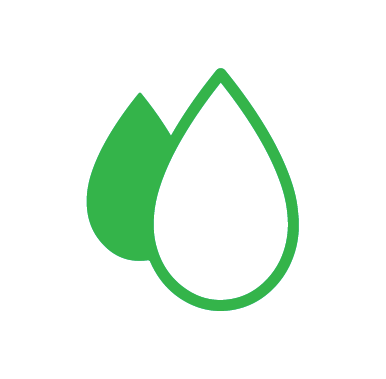 Increase Hemoglobin level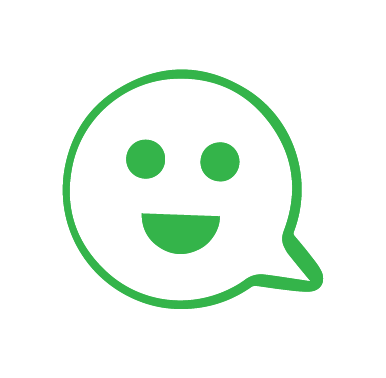 Reduces Mood Swings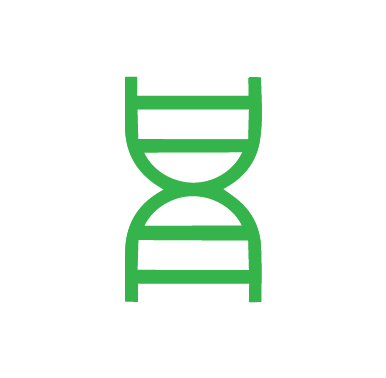 Promotes HappyHarmones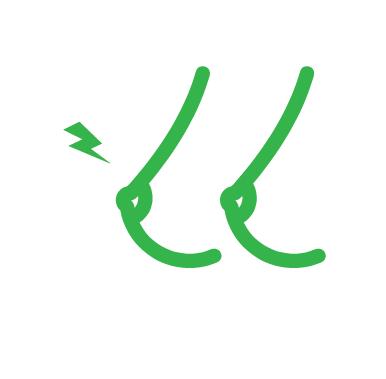 Reduce Breast Tenderness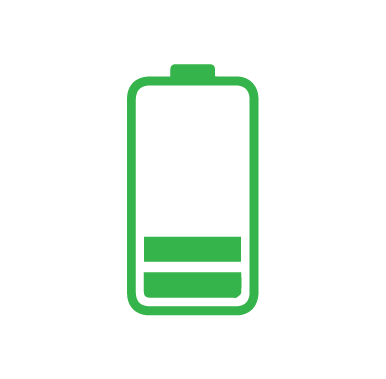 Re-energize from Fatigue
•
Eases cramps pain
•
Helps reduce breast tenderness
WHAT'S IN IT?
Backed by science, Filled with happiness
VAC is safe, effective and well tolerable ingredient for the treatment of Moderate - Severe PMS in adolescent and adults.

** Data from 21 Human Clinical studies across PMS, PMDD, Mastodynia & Menstrual Cycle Irregularity.

30 Strips

Start with 1-2 Strips daily 5 days before and until periods end. You can have them anytime in the Day or Night. Recommended usage of 3 menstrual cycles and thereafter 7 days a month.

CONVENIENCE
Easy to carry, easy to consume, Single doses packed separately unlike many gummies / tablets / capsules.

EFFICACY
Buccal absorption better than other gut absorption, faster onset of action, better bioavailability than other dosage forms, 100% RDA with least number & quantity of excipients, Carbs and sugars - lesser than any other oral dosage form.

EXPERIENCE
Immediate dissolution, exciting flavors, No lasting after taste, No need of water for consumption.

Precise Dose

100% Bioavailable

Dissolves in less than a minute

Direct absorption by body

Improved Patient convenience

| | Calm the Chums Oral Strips | Gummies | Capsules / Tablets |
| --- | --- | --- | --- |
| Active Ingredients | 85% | 60% | 20% |
| Bio Availability | YES | NO | NO |
| Added Sugar | ZERO | HIGH | MILD |
| Higher Absorption | YES | NO | NO |
| Precise Dosage | YES | NO | NO |
| Faster Action | YES | NO | NO |

Your browser does not support the video tag. Your browser does not support the video tag.

| ORAL STRIPS | TABLETS |
| --- | --- |
| Disintegrate rapidly in the mouth hence easy to swallow instantly | Tablets are not highly recommended for geriatric patients as it is difficult to swallow and may lead to choking |
| Better compliance as no liquid is required to take the medication | Low compliance |
| Rapid action as this drug is absorbed with in the oral cavity and not digested | The effect is quite slow |
| Due to the pre-gastric absorption ability, it has no side effects | Tablets might have side effects |
| Normally it has a pleasant taste and hence, suited for all taste buds | All tablets are not good in taste |
| More durable and stable | Low shelf life |

What does Calm the Chums strips help in ?

Calm the Chums oral strips help reduce & ease the PMS discomfort of period cramps/ Pain , Mood swings , Breast tenderness , Low energy . Helps Uplifts Mood , provides energy & prevents Iron deficiency.

How are the ingredients effective in making periods easy ?

Clinically tested ingredients sourced from Germany  like  VAC aka Chasteberry along with Ab+ Fortis Iron and Vitamin B works on easing the tensed muscles and also adds the energy does through Iron

Are these strips suitable for women with PCOS / PCOD / Teenagers?

Yes the Strips are safe to be consumed from age 12 years onwards , its non hormone engaging hence fully safe . Infact the strips are rich in Iron that also helps overcome low Hemoglobin levels / anaemia over a time as well.

Are they safe to consume ?

The Strips are made with Clinically tested ingredients and safe to consume.

What are the common symptoms of PMS ?

Most menstruating women experience cramps , bloating , breast tenderness , mood swings , tiredness , headache

How to use and for how long ?

We recommend to Start with 5 days before the periods until 5 days after the periods. 1-2 Strips daily. As per the clinical papers its suggested to complete 3 menstrual cycles and from 4thhaving 7 days is sufficient . 
Choosing a selection results in a full page refresh.