SuperMumz - Pack of 10/Supplement for Women/Energy, Skin, Hair and Fat Loss/Protein Bars for Post Partum Recovery/Contains Essential Vit, Mineral like B6/B9/B12
Regular price

Sale price

₹ 501
This is a
Vegetarian
product.
Best Before: 6 Months from Manufacturing
Ingredients : 
Dates, Date Paste, Pea Protein, FOS, Oats, Almonds, Goondh, Ghee, Honey, Fennel Powder, Spinach Powder, Moringa Leaves Powder, Shatavari & Cinnamon Extract, Antioxidant (Vitamin E), Minerals, Vitamins
Allergen :
Please check for allergen advice on the wrapper. 
SIMPLIFIED NOURISHMENT- The bars are rich source of Plant Based Pea Protein, Iron and Fibre to get back to shape like pre-pregnancy and Healthy Body.
FORTIFIED NUTRITION / POWER PACKED WITH VITAMINS AND MINERAL – The bars are fortified with essential Vitamins such as B6 / C / B12/ B9 / D and Vitamin E.
AIDS METABOLISM: Our Power booster blend increases Thermogenesis and Fat Lipolysis which helps reduce fat deposition.
HAIR GROWTH SUPPORT: Replenishes essential nutrients like Iron, Vit C, Biotin, Zinc, Selenium, and more that may be depleted during lactation causing excessive hair fall.
PROMOTES GUT HEALTH: Fibre rich ingredients, Oats, Seeds and Amaranth are good prebiotics that can lead to growth of good gut bacteria leading to protection against various diseases.
CONTAINS SUPERFOODS: A single bar provides the goodness of super grains like Oats and Amaranth, Seeds like Pumpkin, Halim and Poppy, Moringa, Ginger, Green Tea and Green coffee extract.
AIDS IN RELIEVING ANEMIA: The bars are made from Natural Dates and hence are rich in Iron & Vitamin C which makes it absorb faster and keep you on the go every time.
NO MORE JUNK – Wholesome bars to munch anytime anywhere along with crave-able taste of hazelnut and chocolate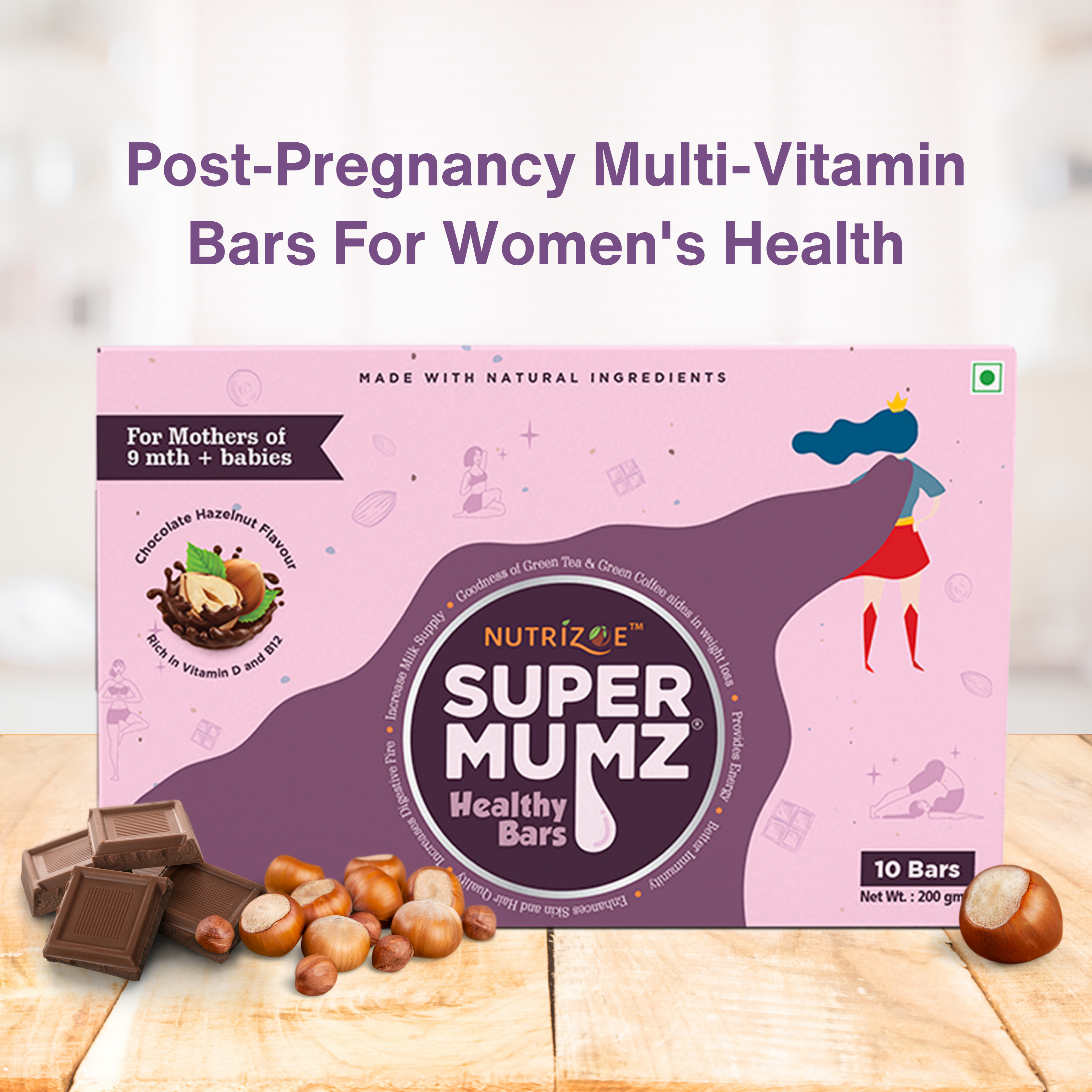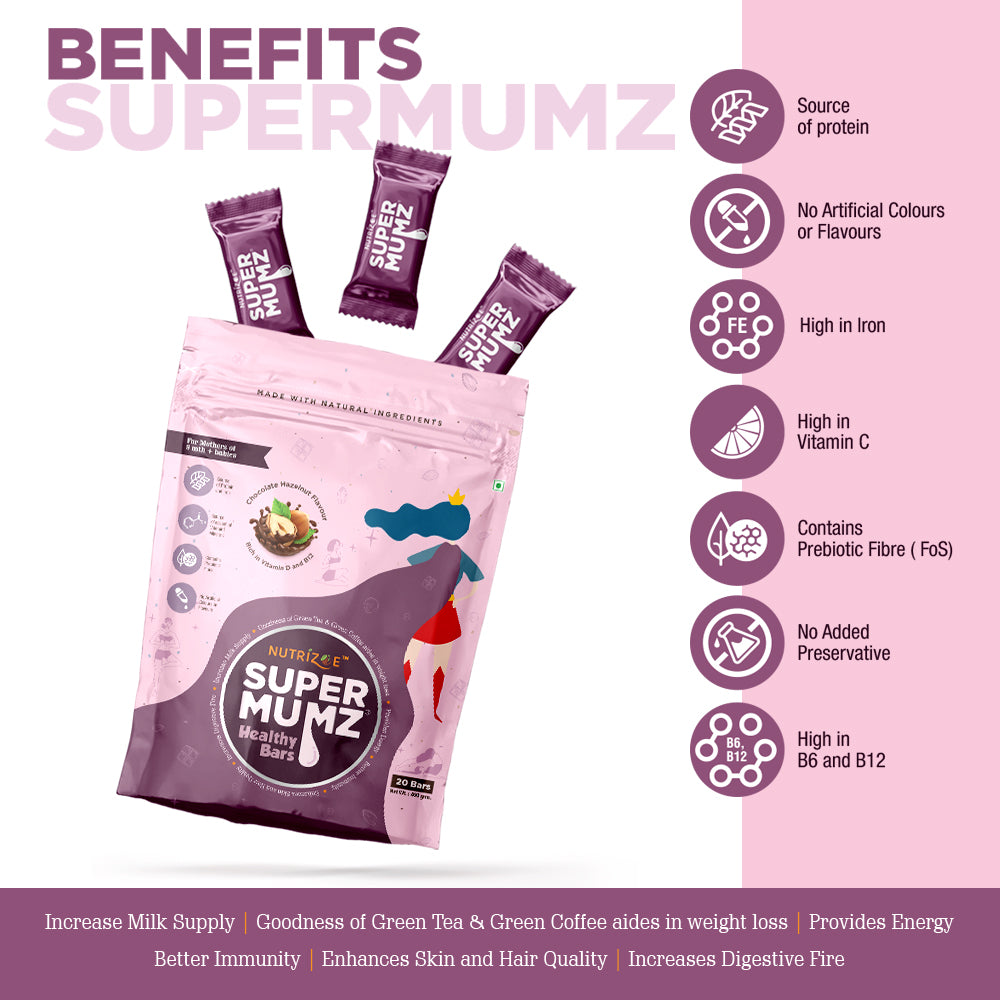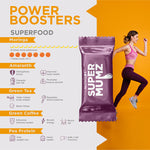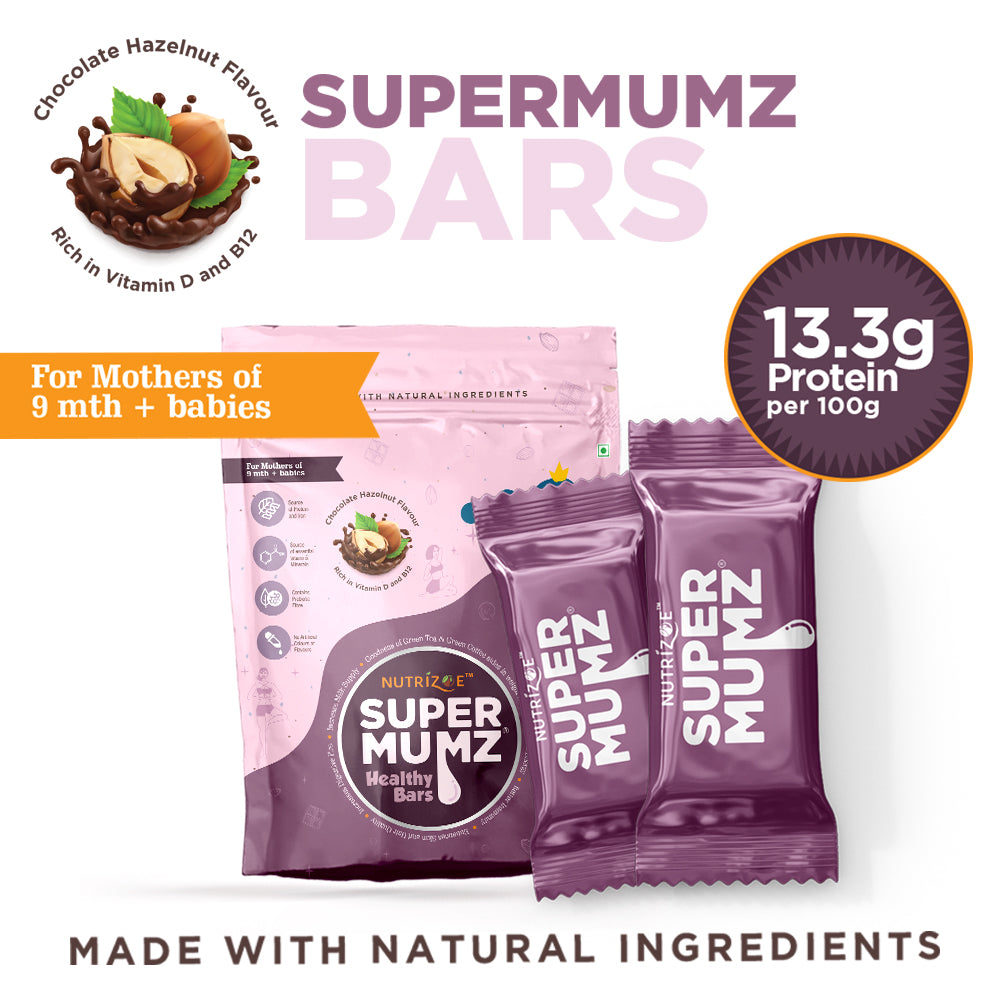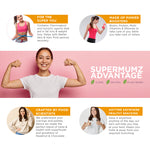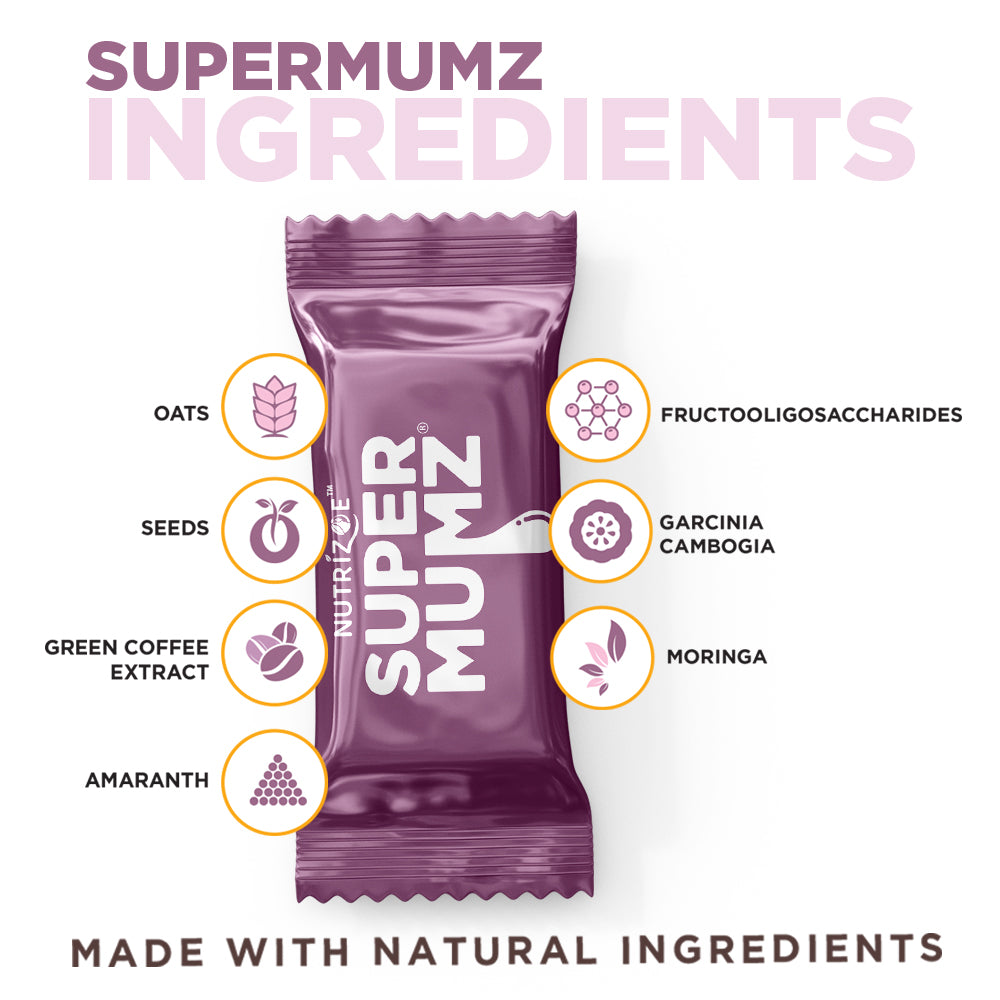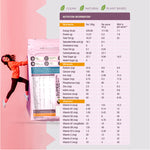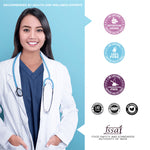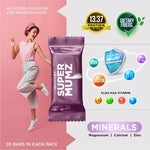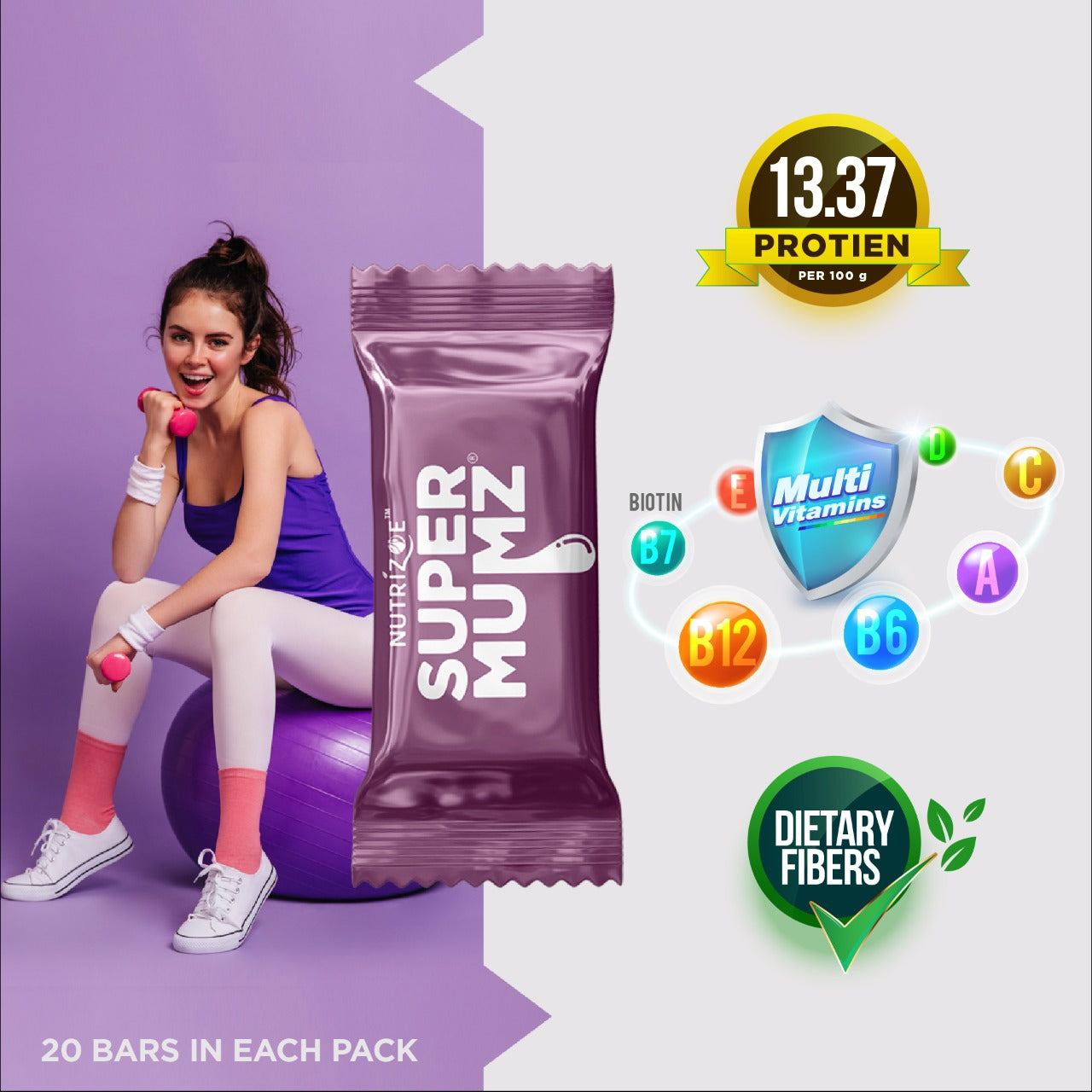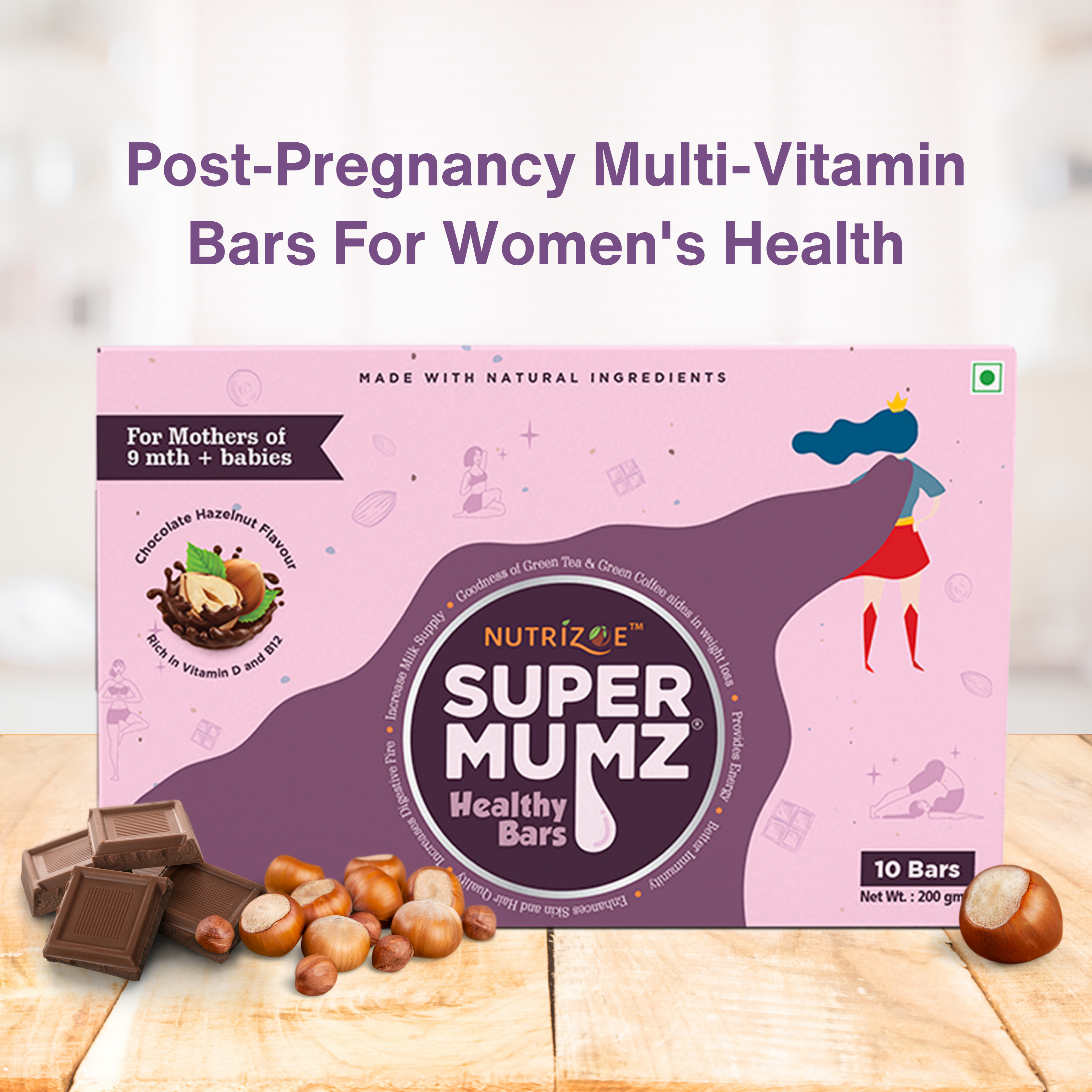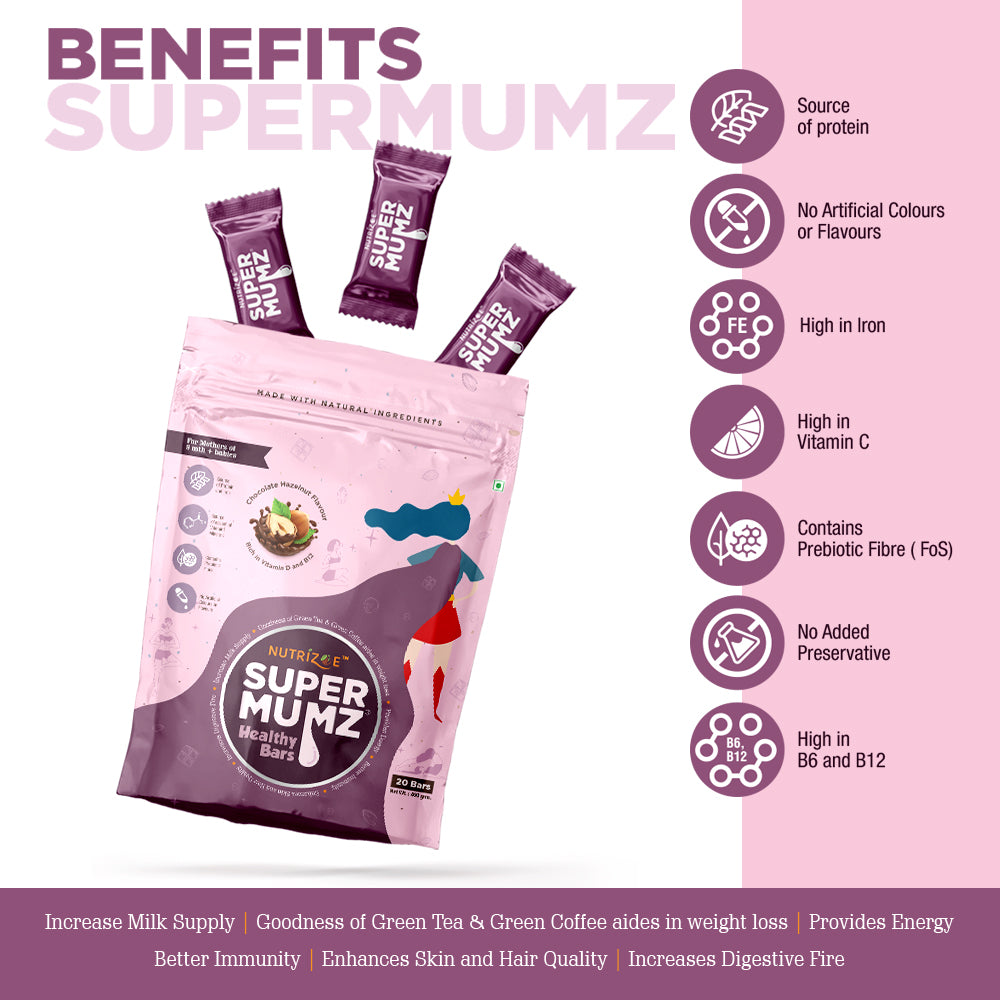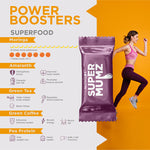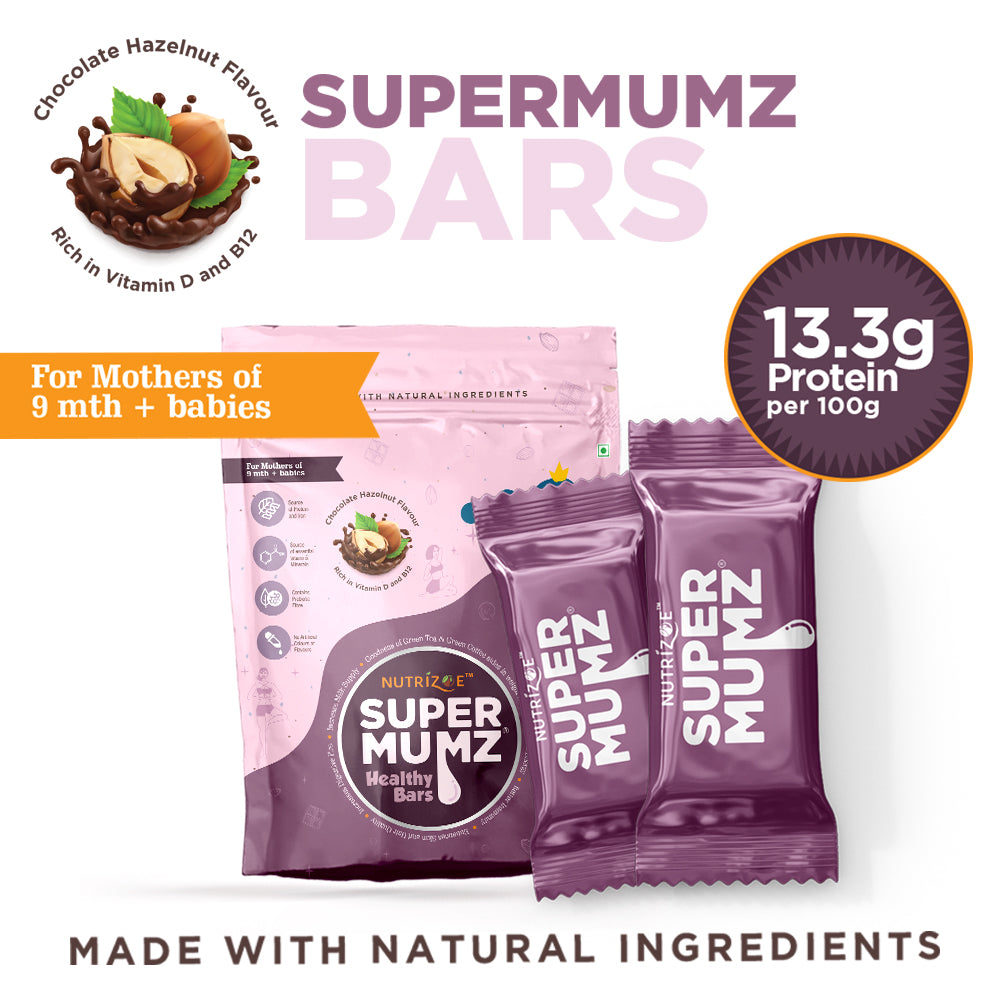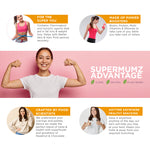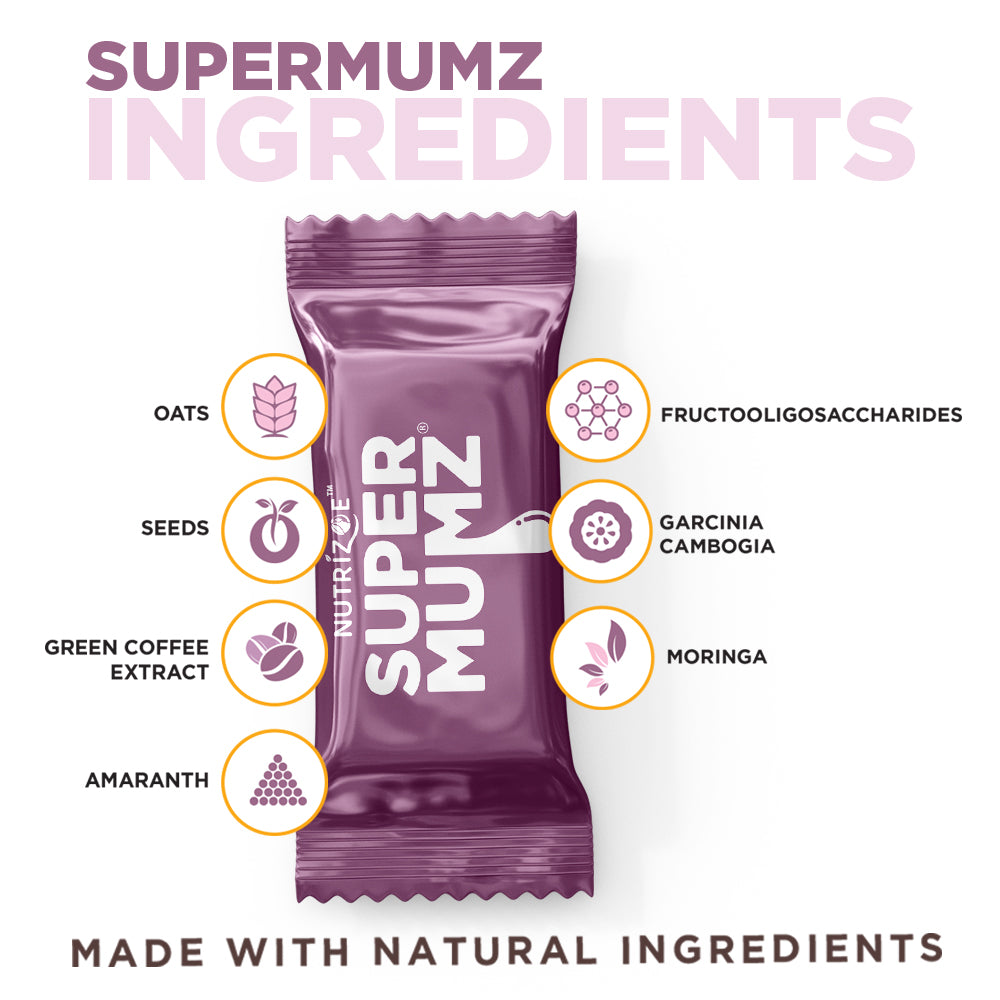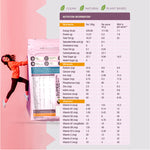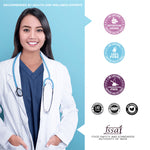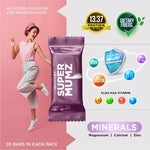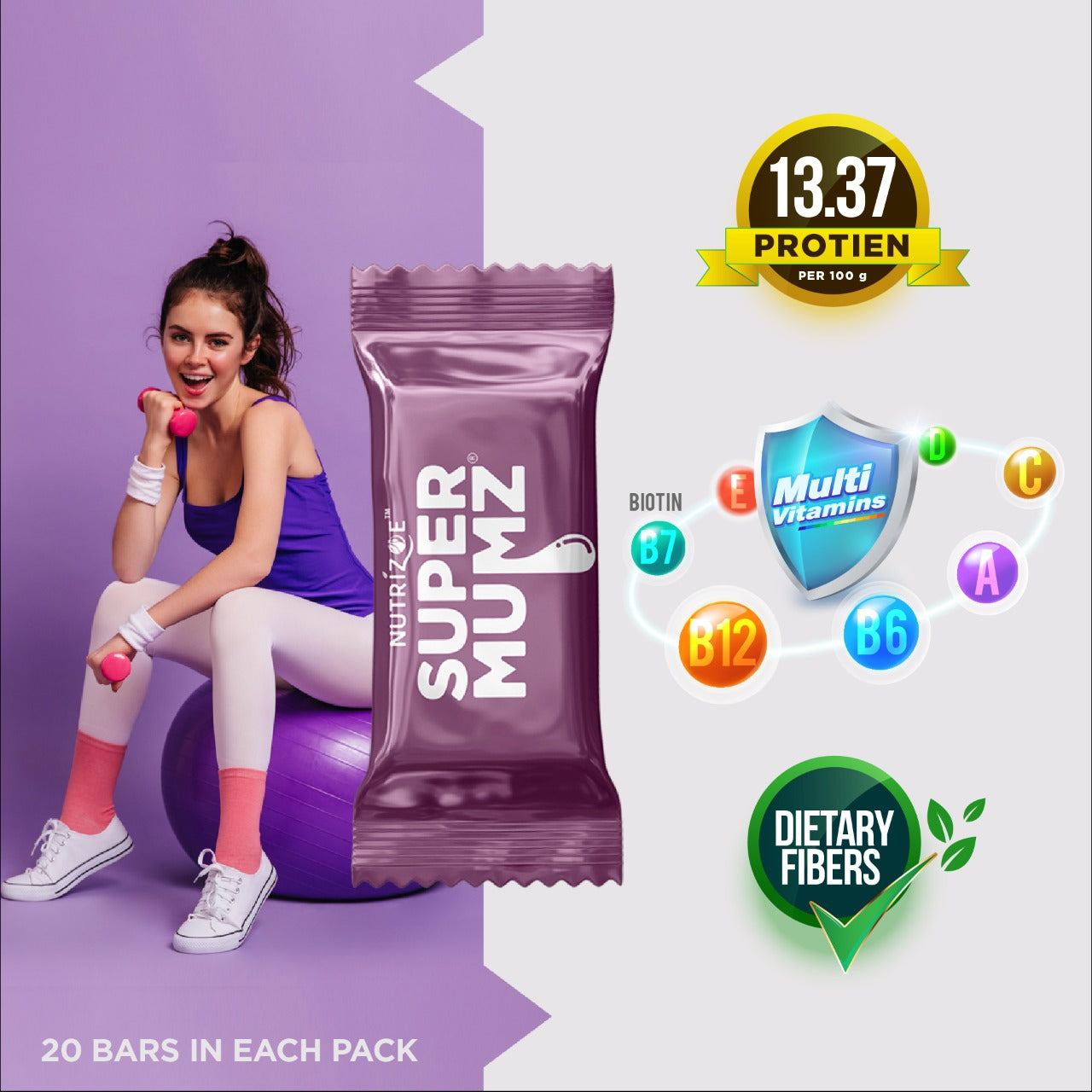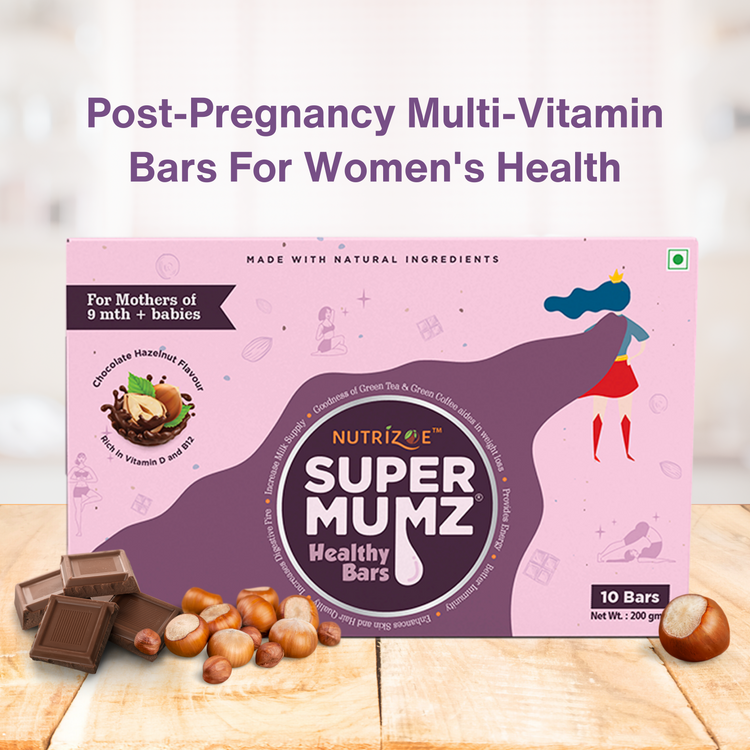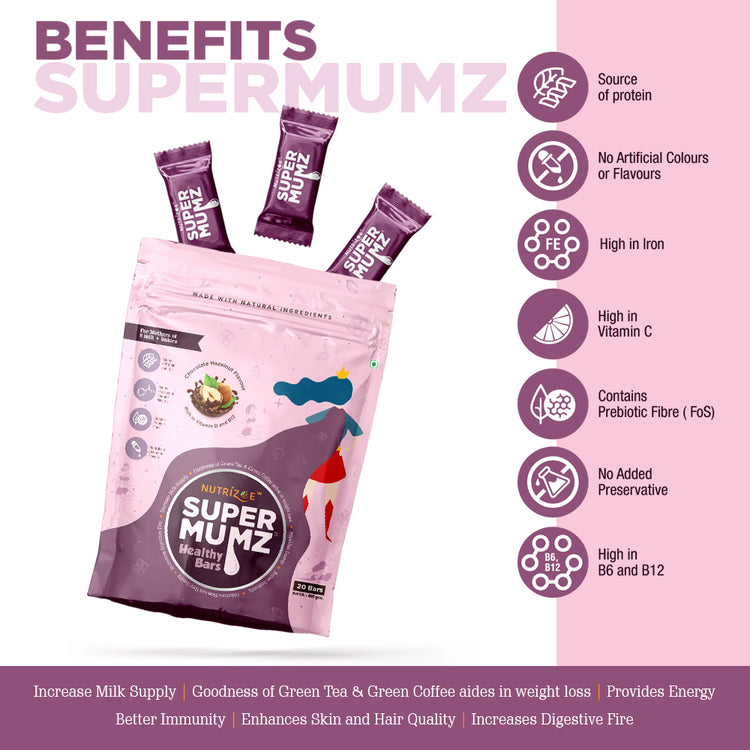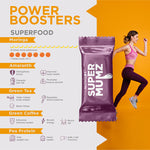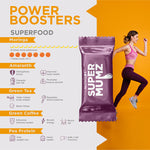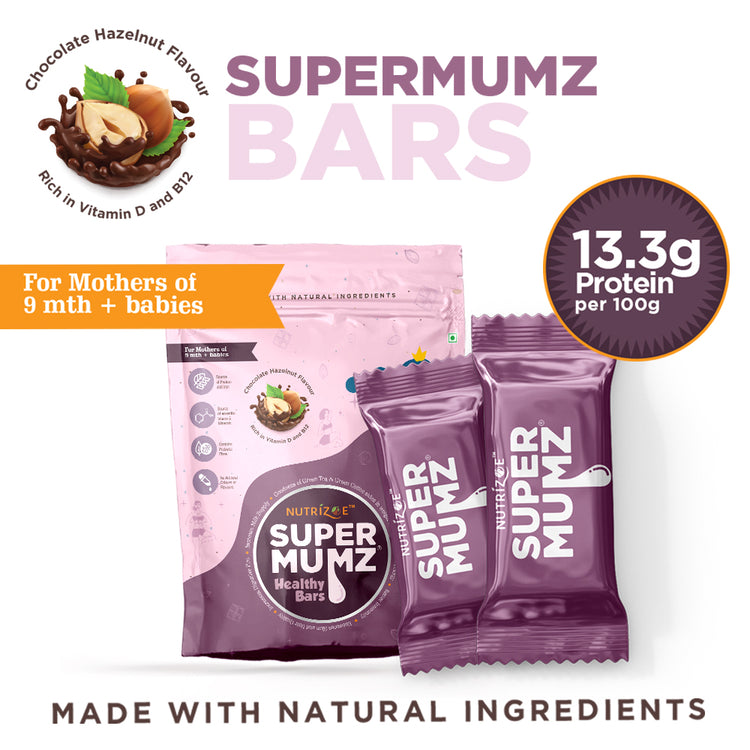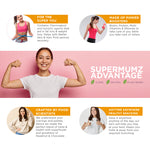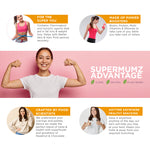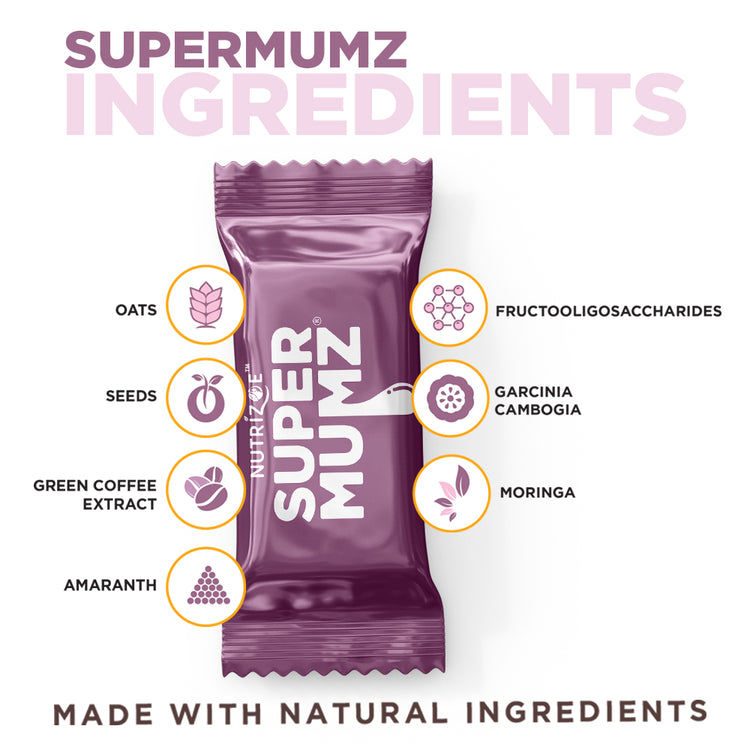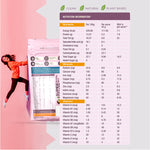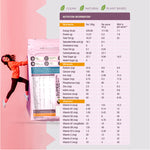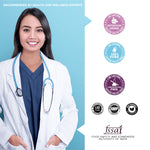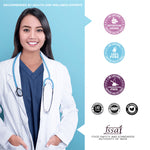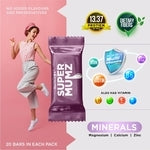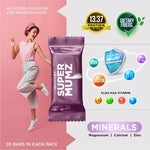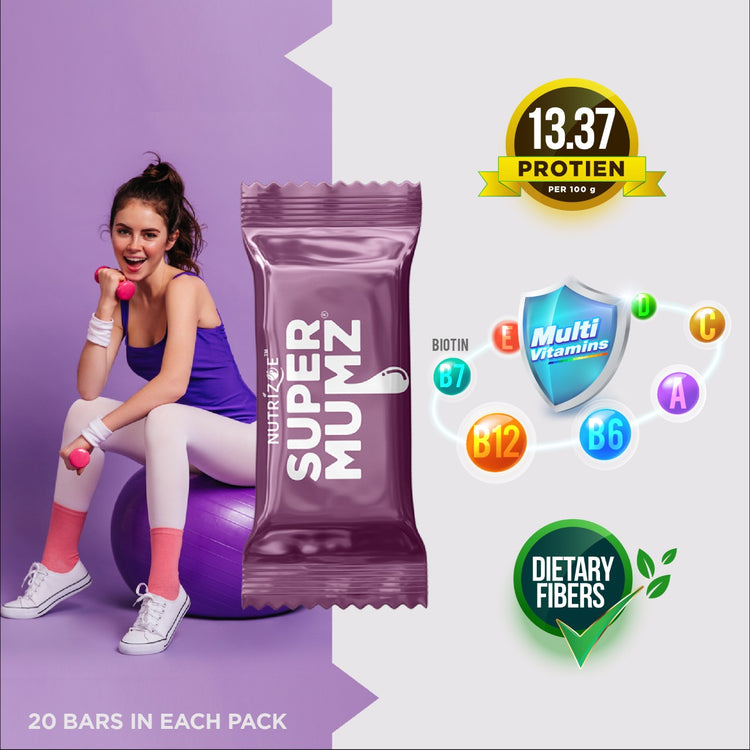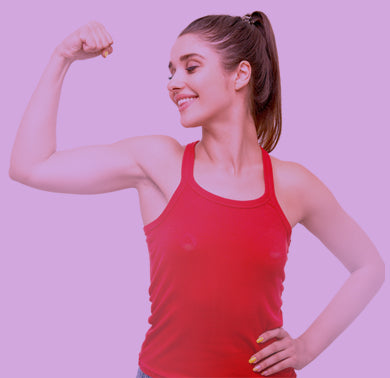 POWERS BOOSTERS
Biotin:
Known as Vitamin B7 is a water soluble Vitamin. It stimulates Keratin Production which helps Strengthens and Thickens Hair. It also helps improve skin Hydration/Smoothness and Appearance.

Moringa:
one magical superfood known for its multiple qualities. Loaded with Antioxidants, Rich in Calcium than milk & 4X Vit A than Carrots. Aids in weight loss, Lactation, Bone Strength & helps in hormonal imbalance.

Green Tea and Green Coffee Extract:
These have been credited with a range of health benefits — from being a Good Antioxidant, Aiding Weight Loss, Promoting Heart, Liver and Brain Health to improving your skin.  Known for anti ageing properties and initiates supple skin.

B Vitamins:
The Energizers - B6 and B12 reduce a woman's risk of heart disease by helping to keep homocysteine levels low. Vitamin B6 plays a key role in metabolism and brain function. It also may help to protect against infections. Vitamin B12 is a nutrient that helps keep your body's blood and nerve cells healthy. May help Bone Health.

*Source:
The Healthline