Fenugreek & Cinnamon 5 Bars Pack - Lactation Aiding & Energy Bars for New Moms - 225 Gms
Regular price

₹ 525

Sale price

₹ 450
This is a
Vegetarian
product.
Best Before : 6 Months from Manufacturing
Ingredients : 
Dates, Oats, Pea Protein, Seeds ( Pumpkin, Halim(Aaliv)), FOS, Almonds, Amarnath Flour, Goondh, Ghee, Honey, Coconut, Fenugreek, Ginger Powder, Shatavari & Cinnamon, Turmeric Powder, Moringa Leaf Powder, Antioxidant (Vitamin E)
Allergen :
Please check for allergen advice on the wrapper. 
These lactation bars contains herbs like Methi, Turmeric, Moringa, etc known for being excellent galactagogues that helps in enhancing milk supply in new moms.
The bars are preservative free, completely safe for both new mothers and the baby. They are easy to carry, store and comes with a shelf life of 180 days.
Lactobites bar will helps new moms regain strength and increase their iron(hemoglobin), calcium levels.; Usage: To be consumed 1 - 2 Bars Daily
The bars are filled with energy boasting ingredients like moringa, shatavri, fenugreek, fennel, ghee, honey, oats, almonds, dates and other lactation aiding ingredients.; A must have for all the new moms post delivery to improve their and new borns health.
Quantity: 5 Bars; Package Contents: 5 Lactobites Mini Pack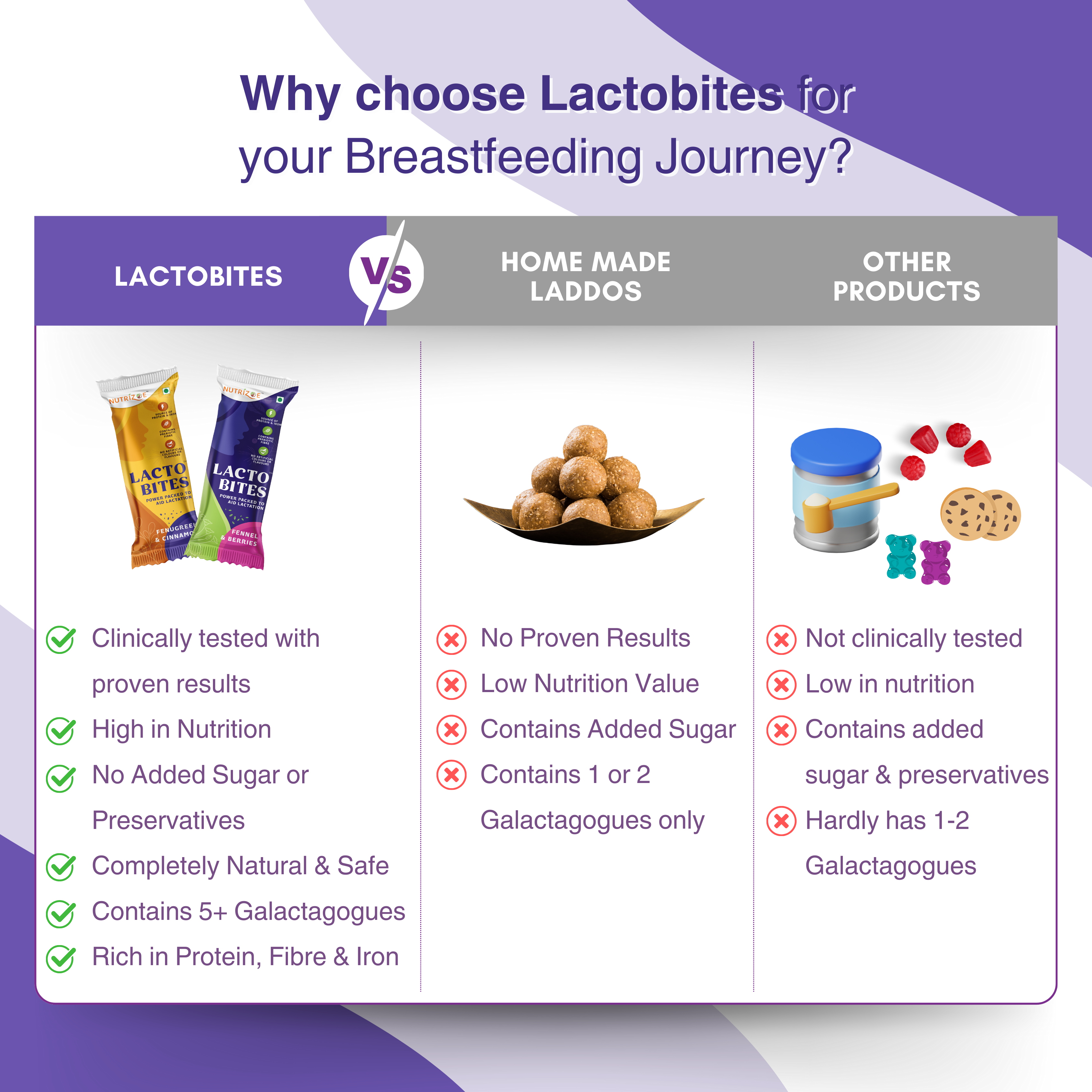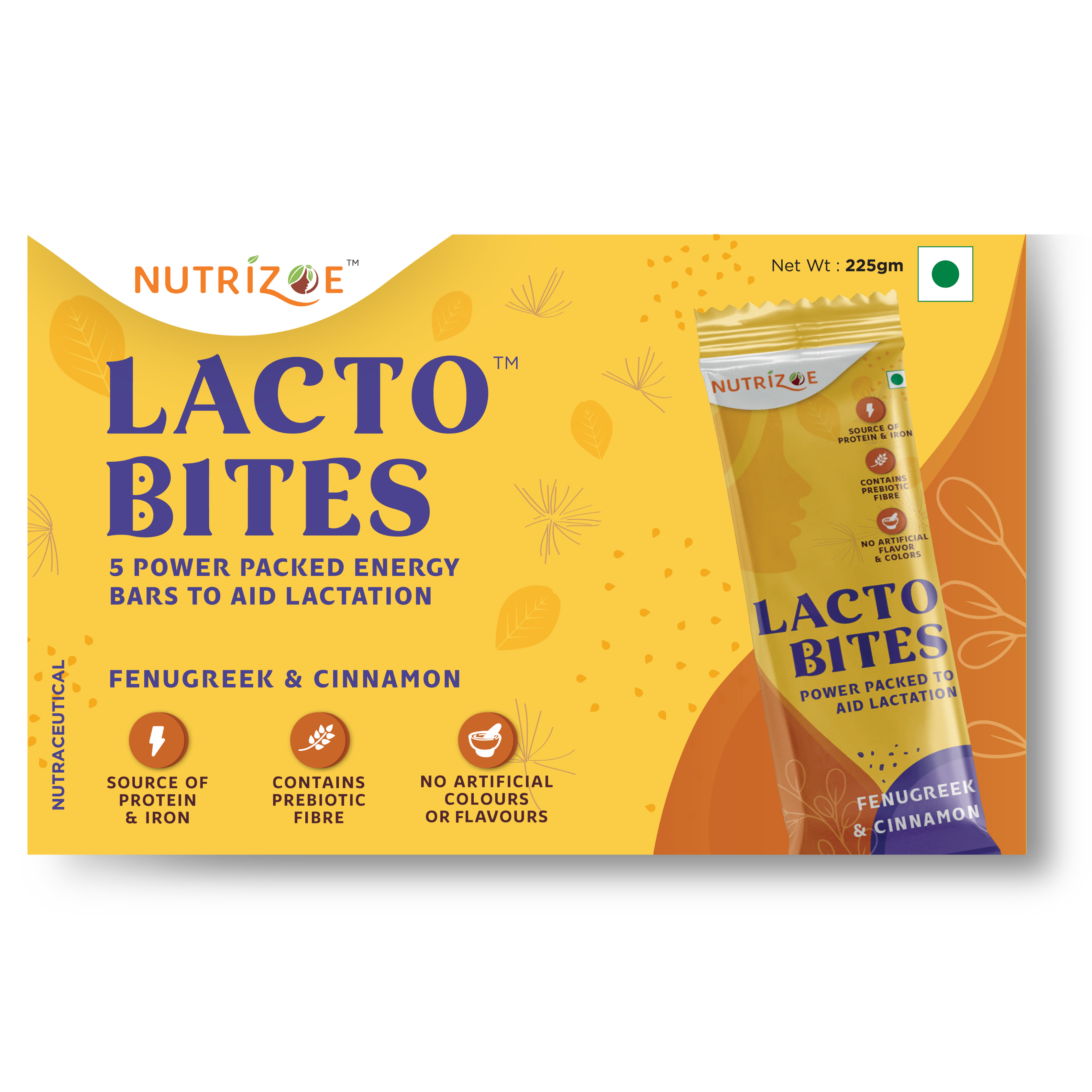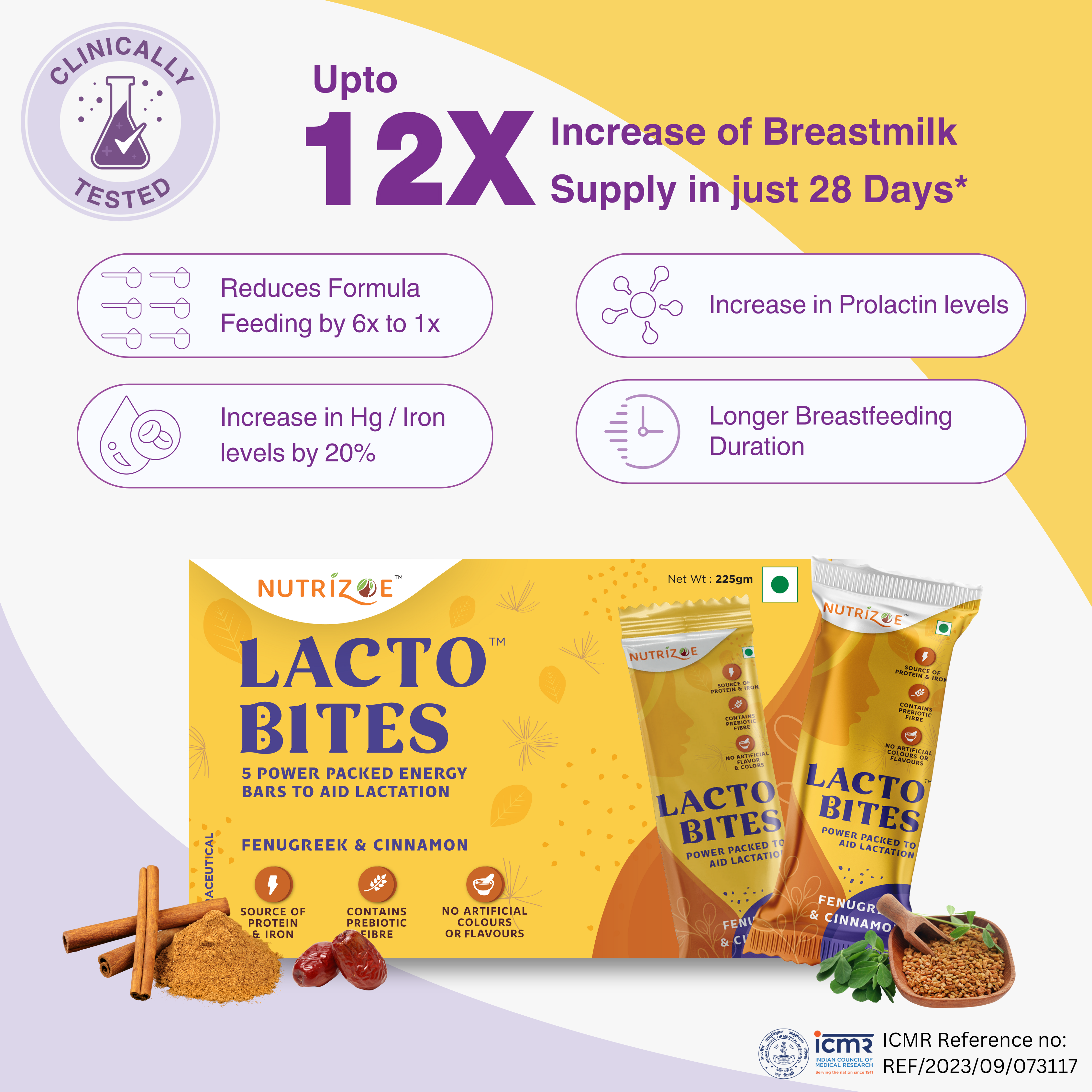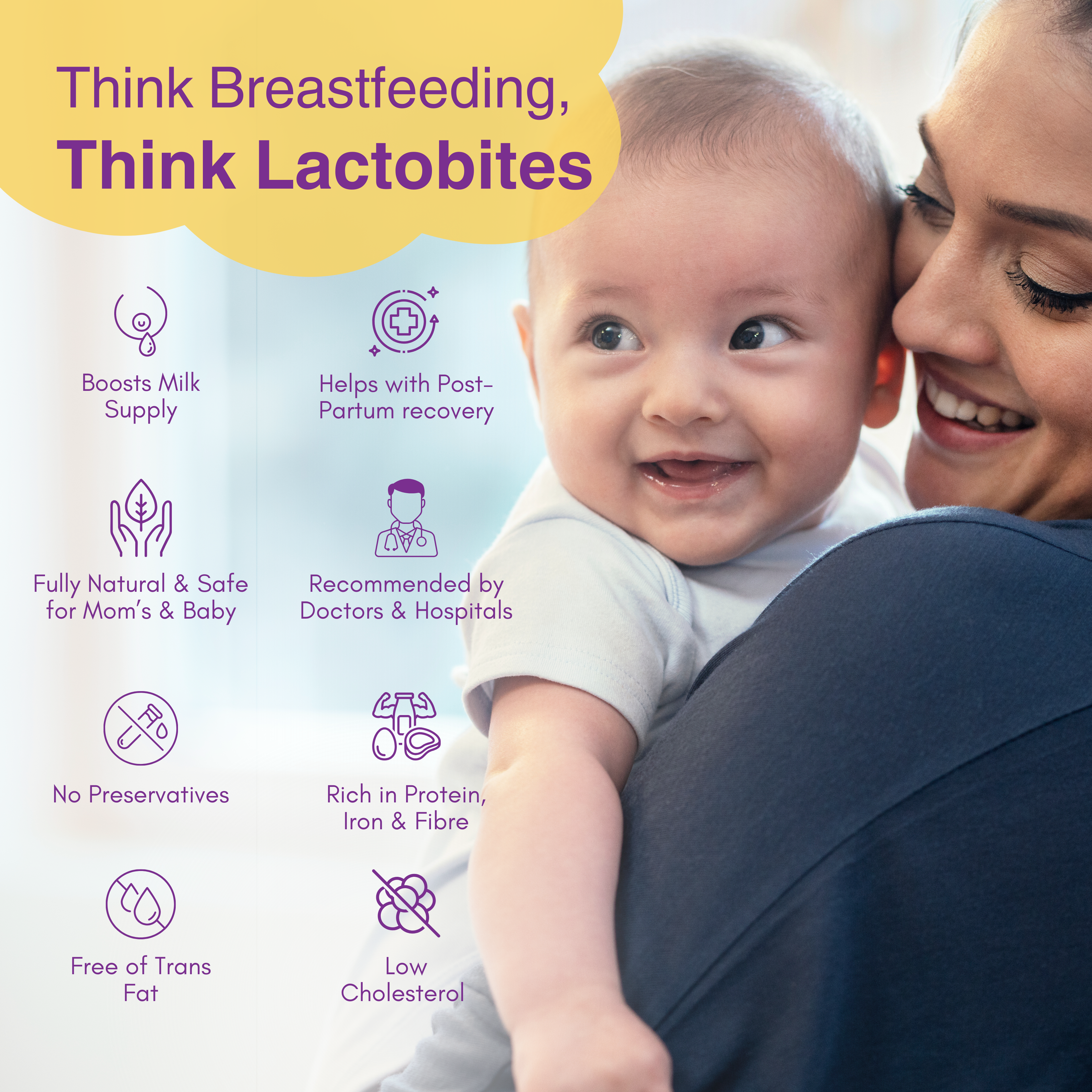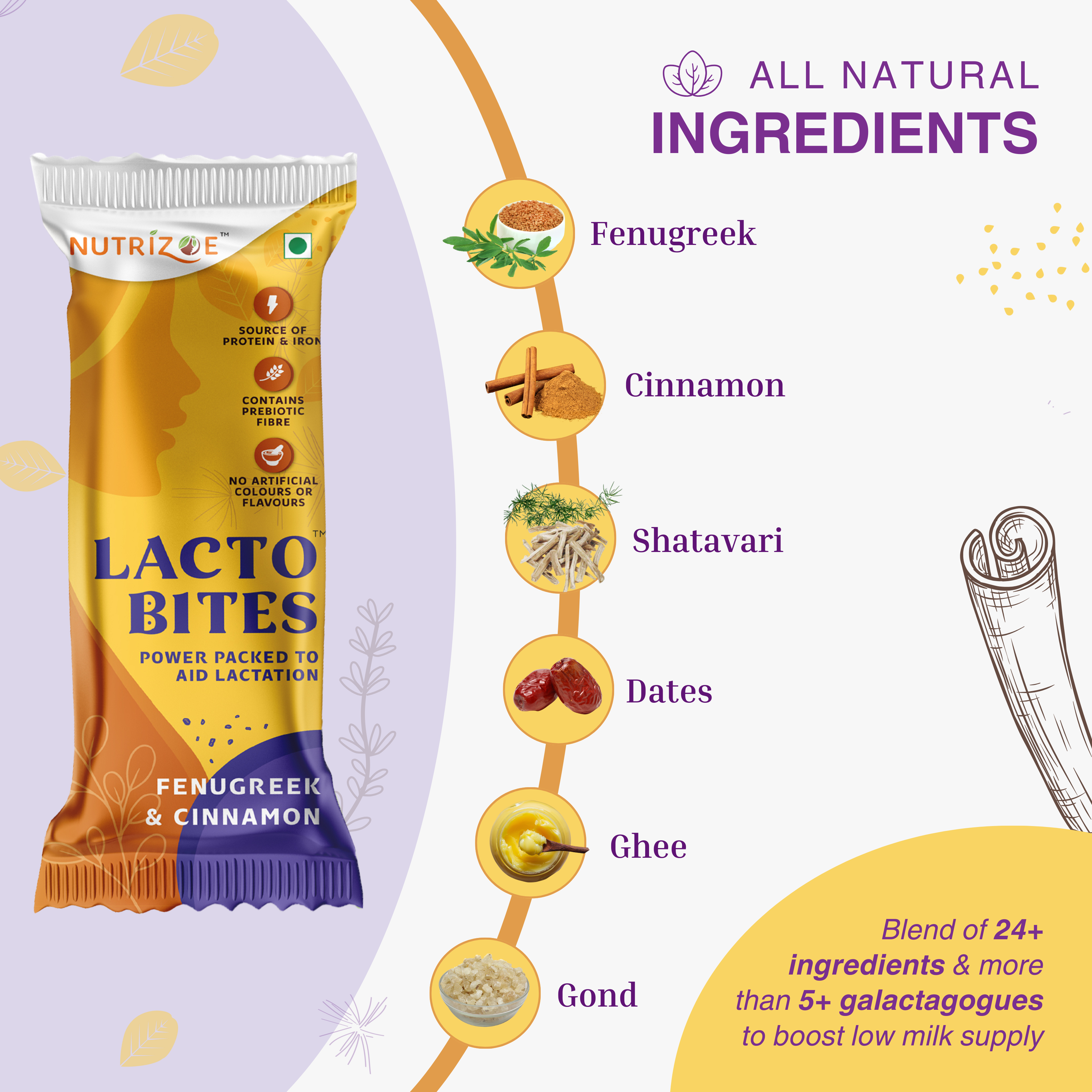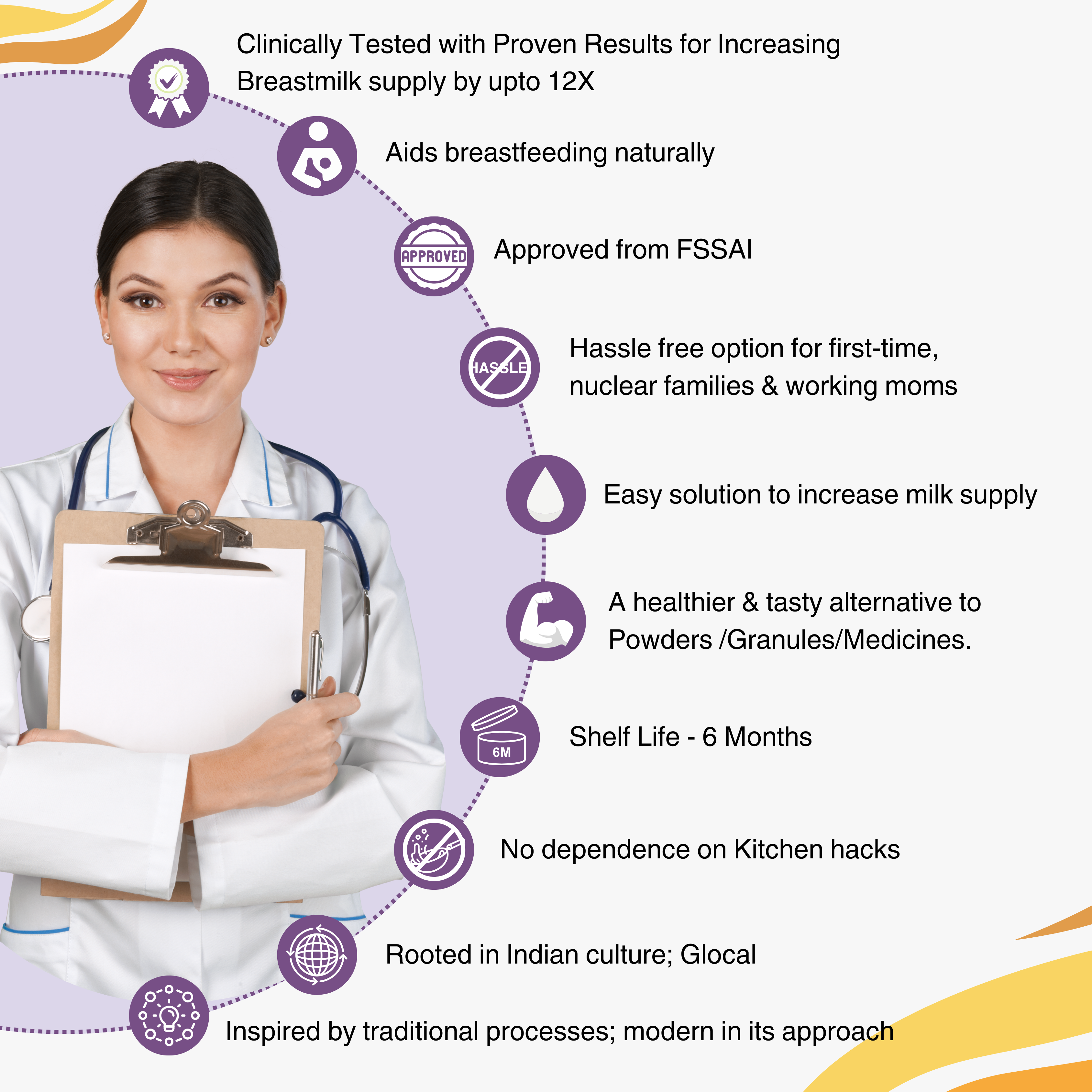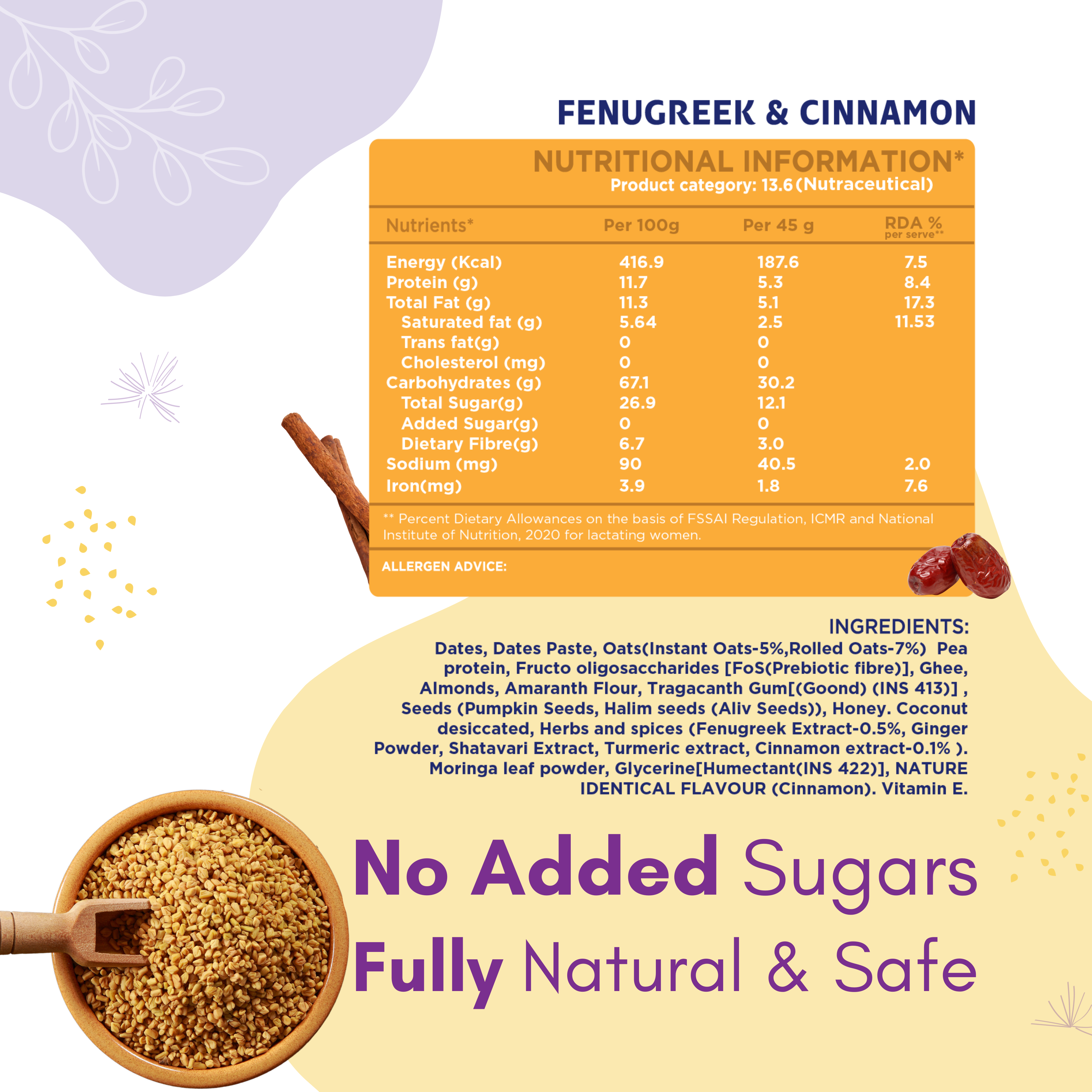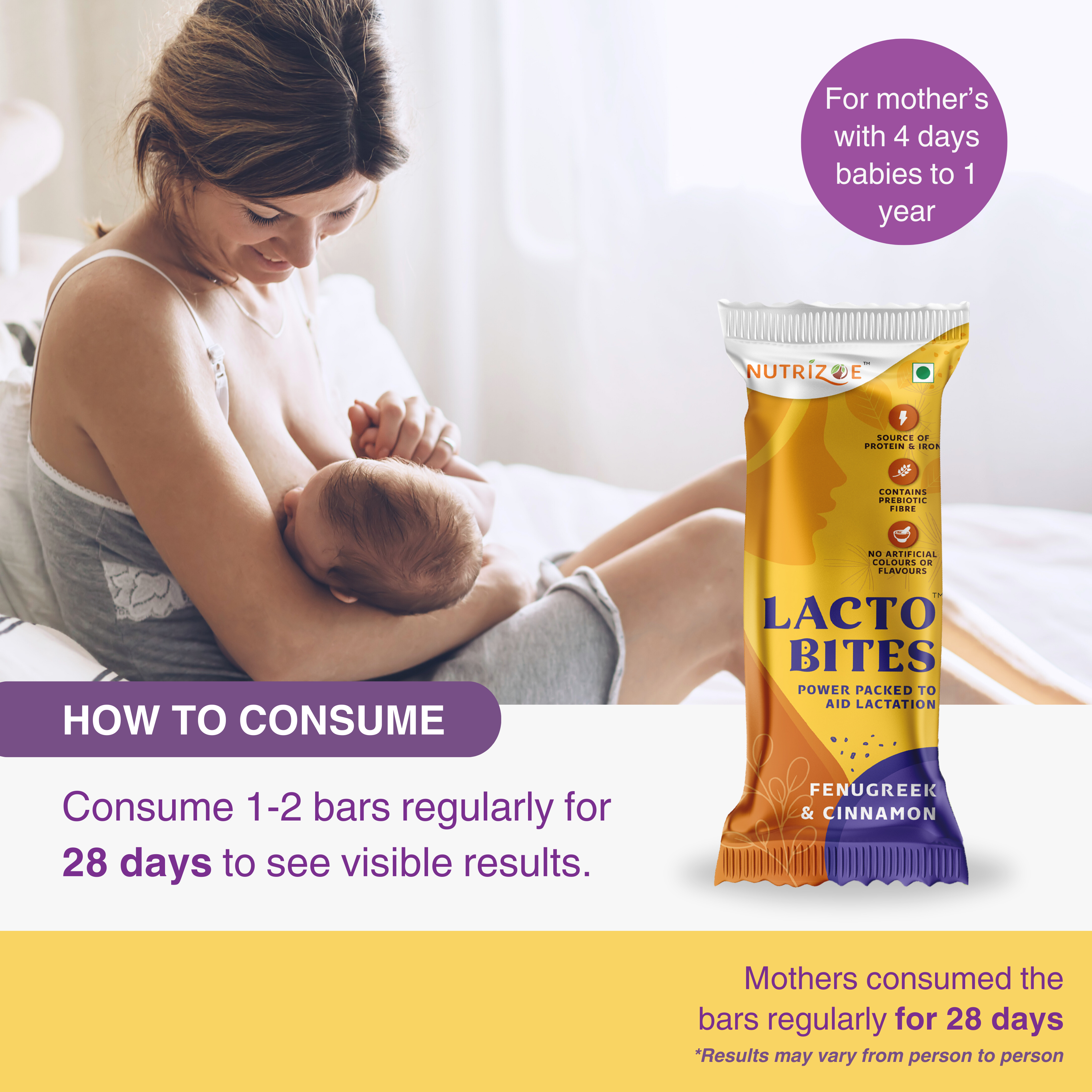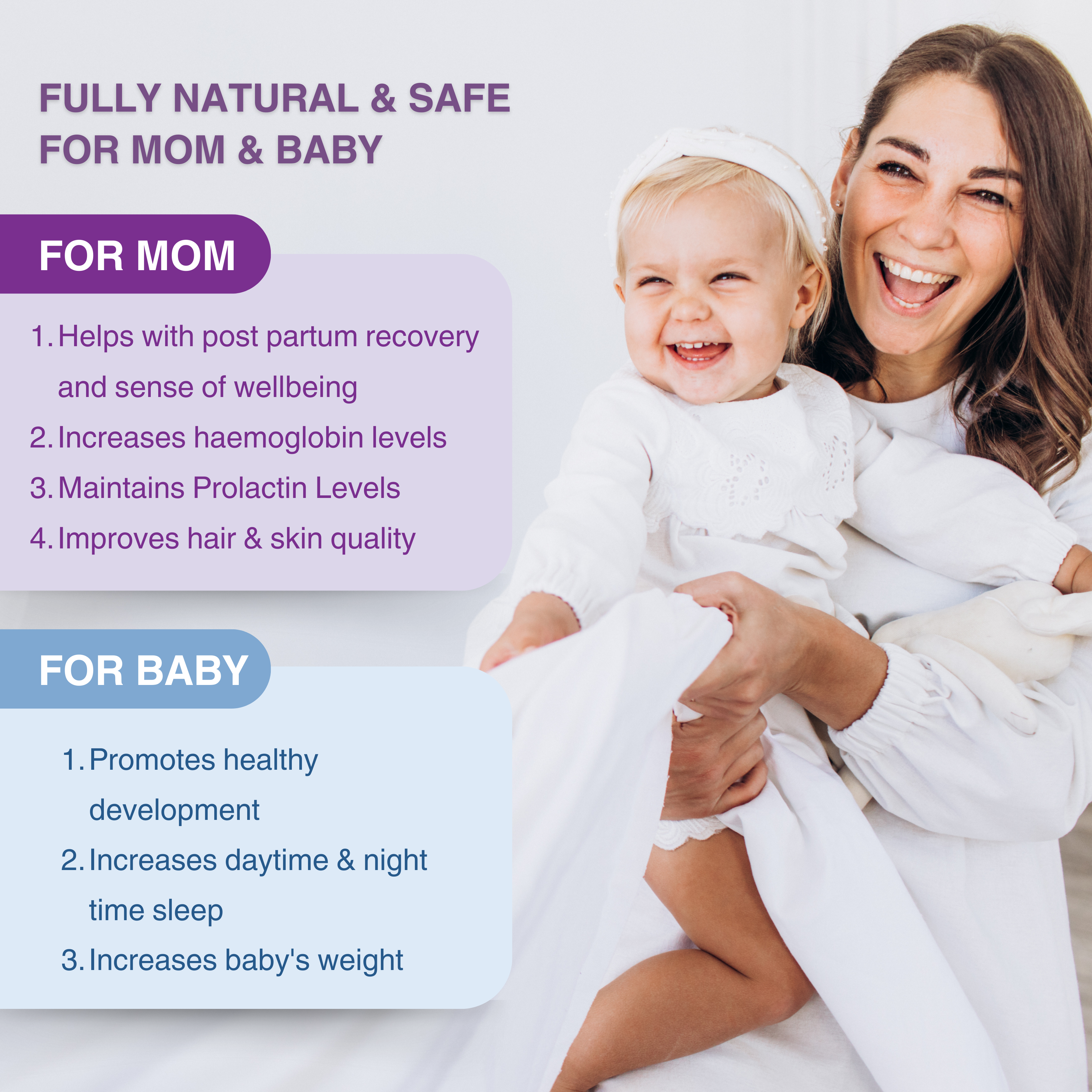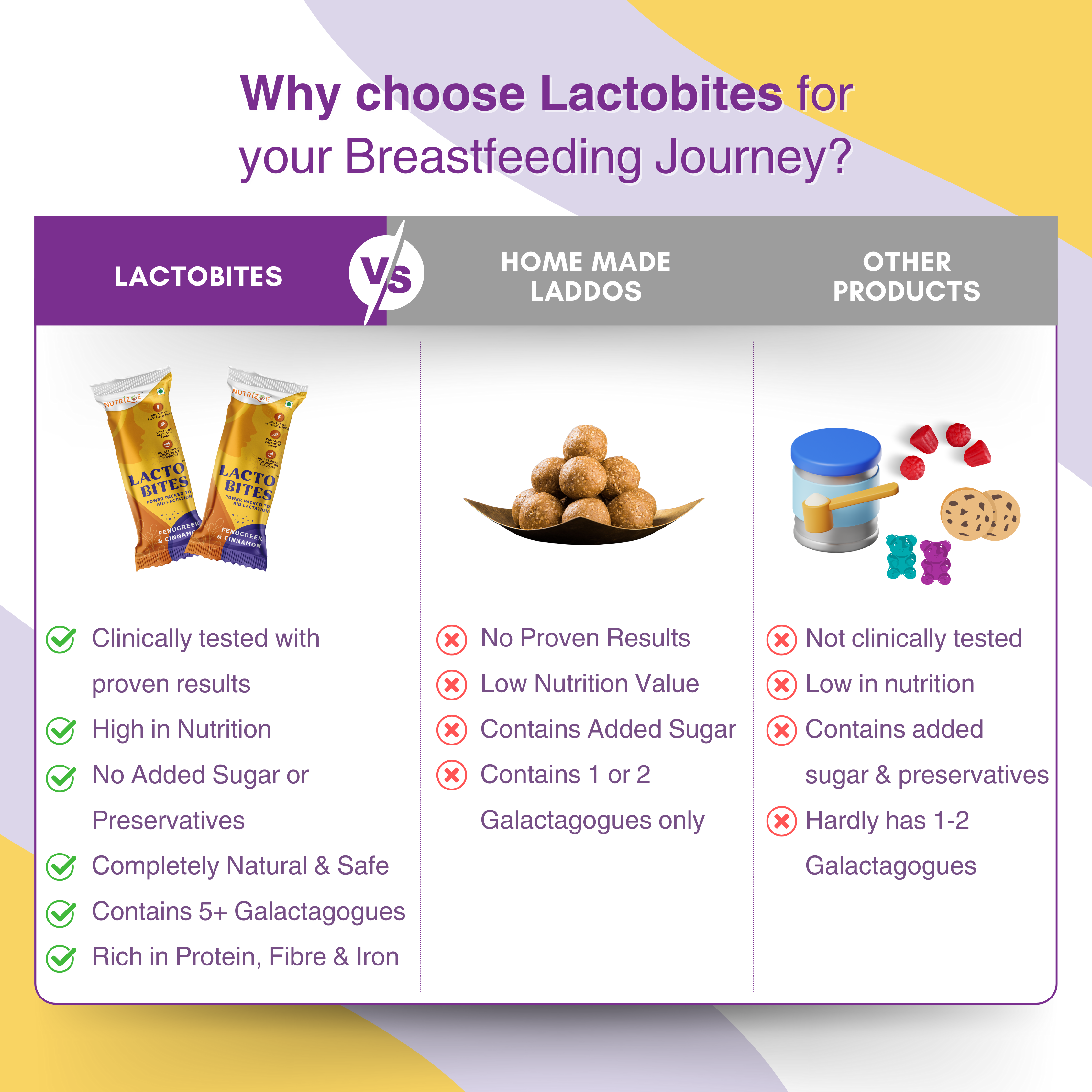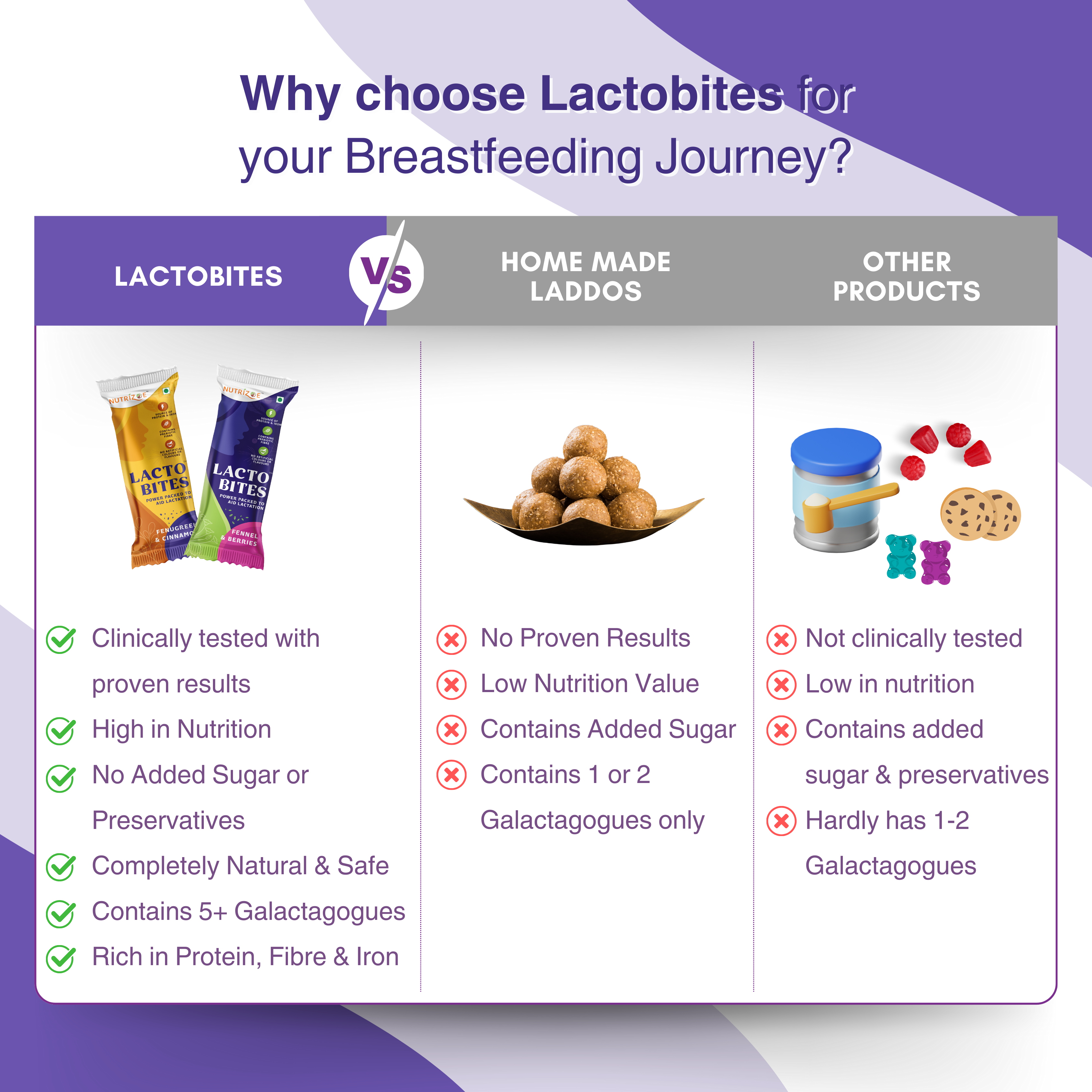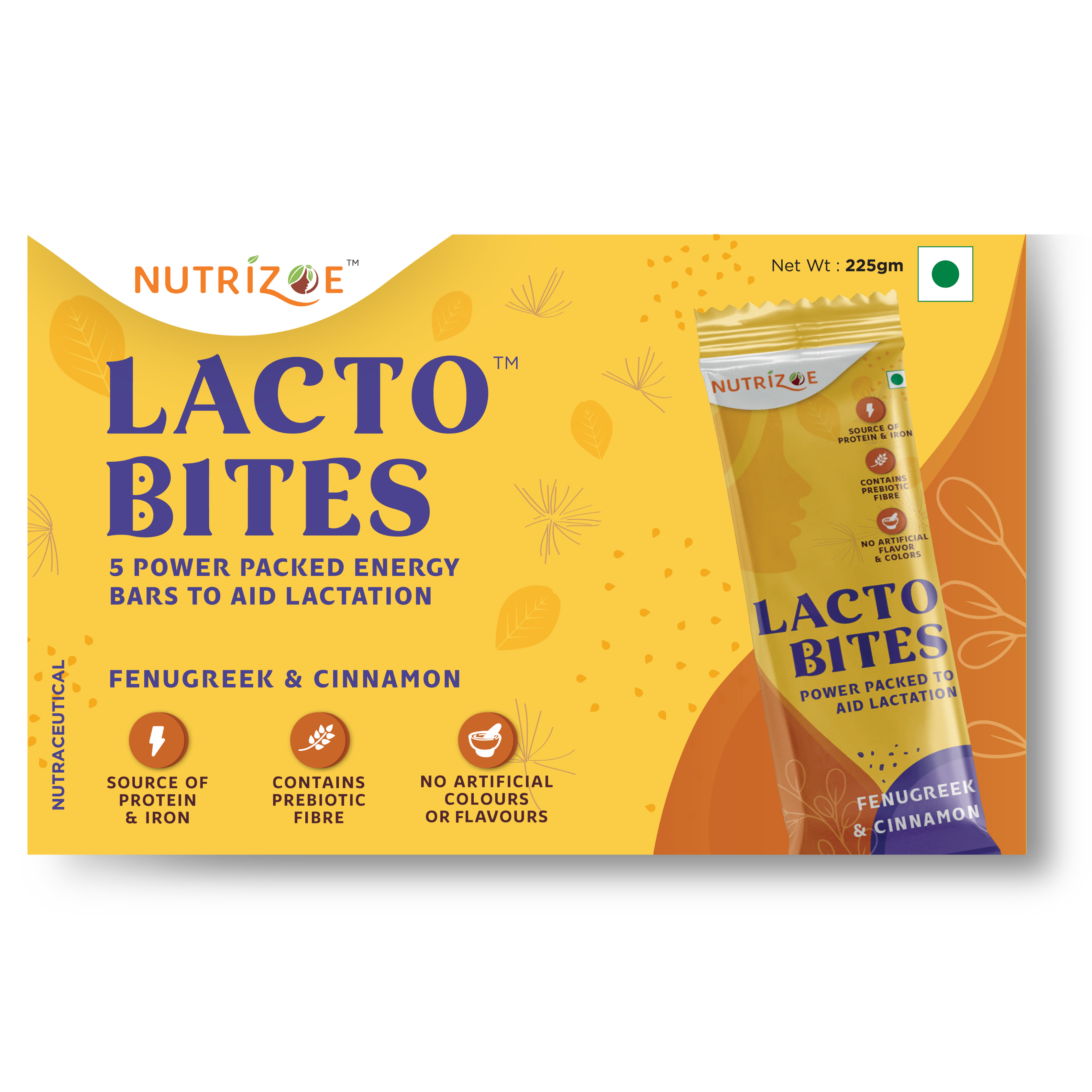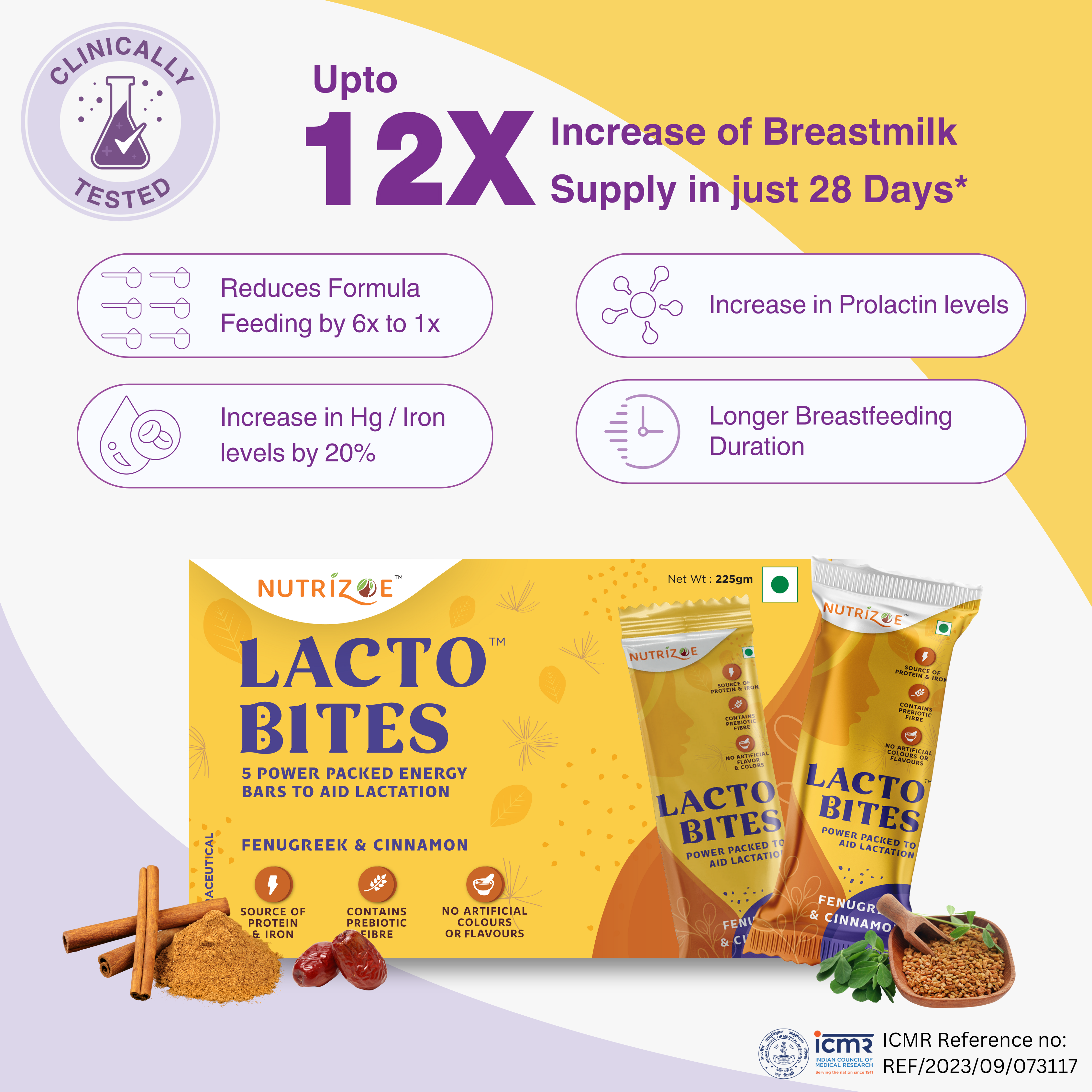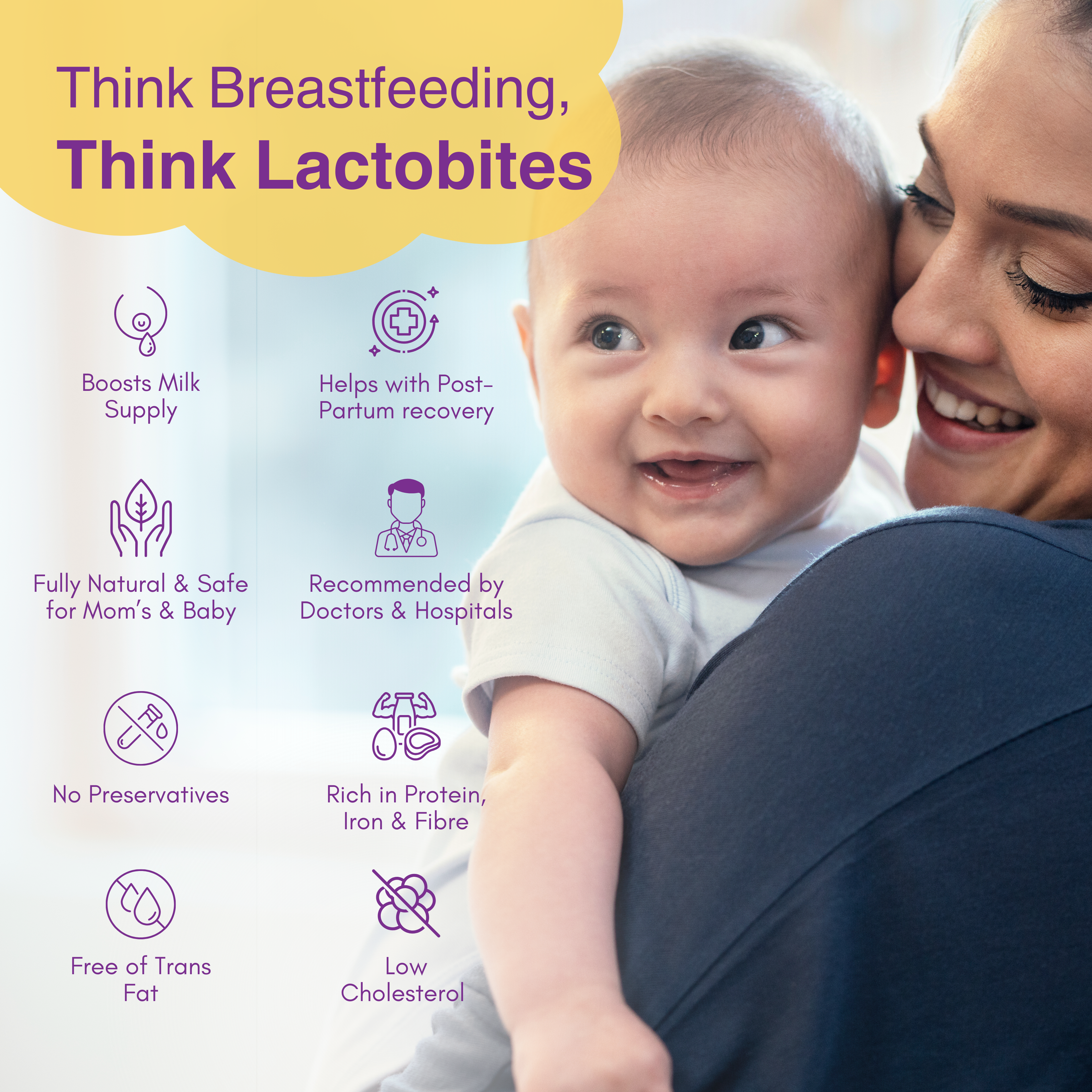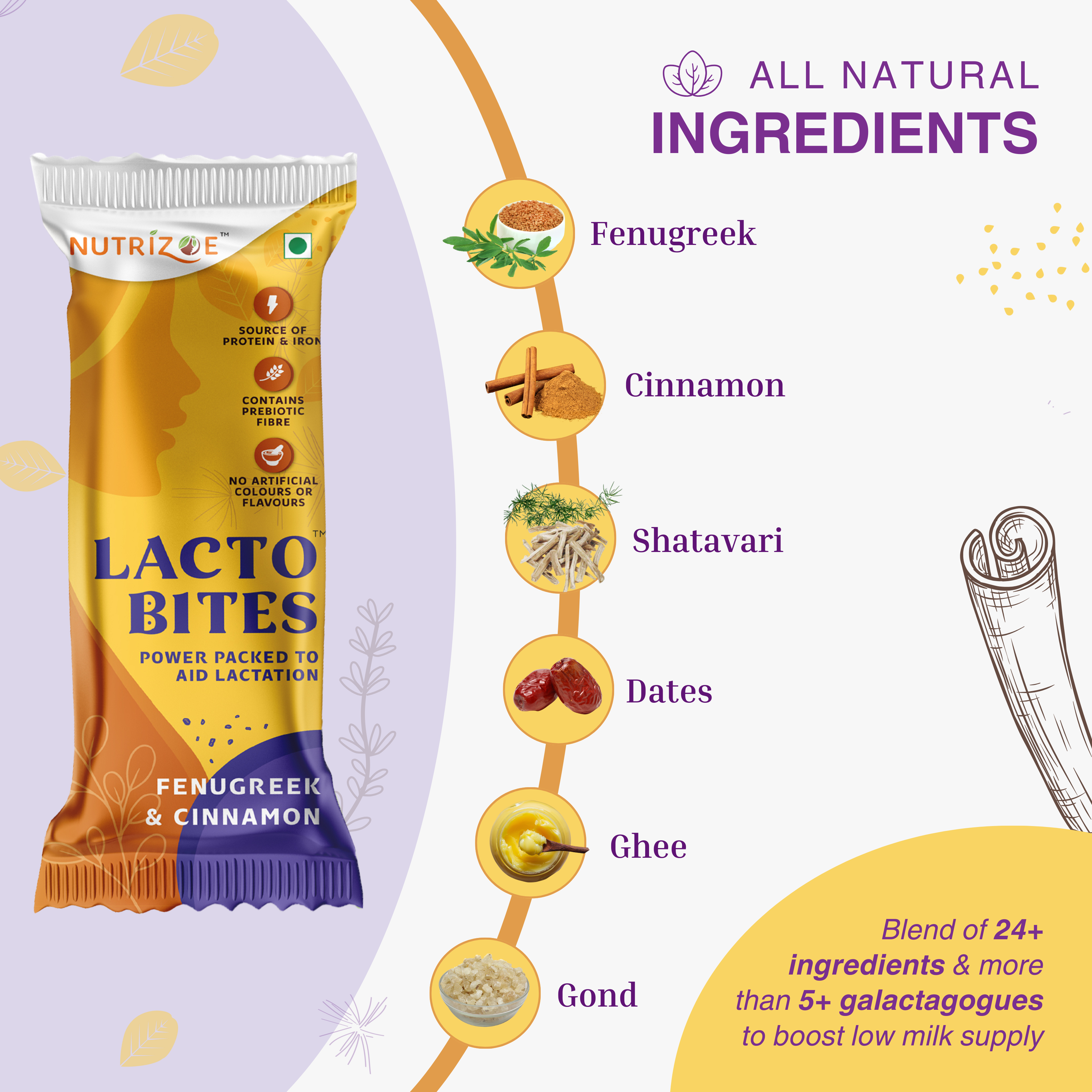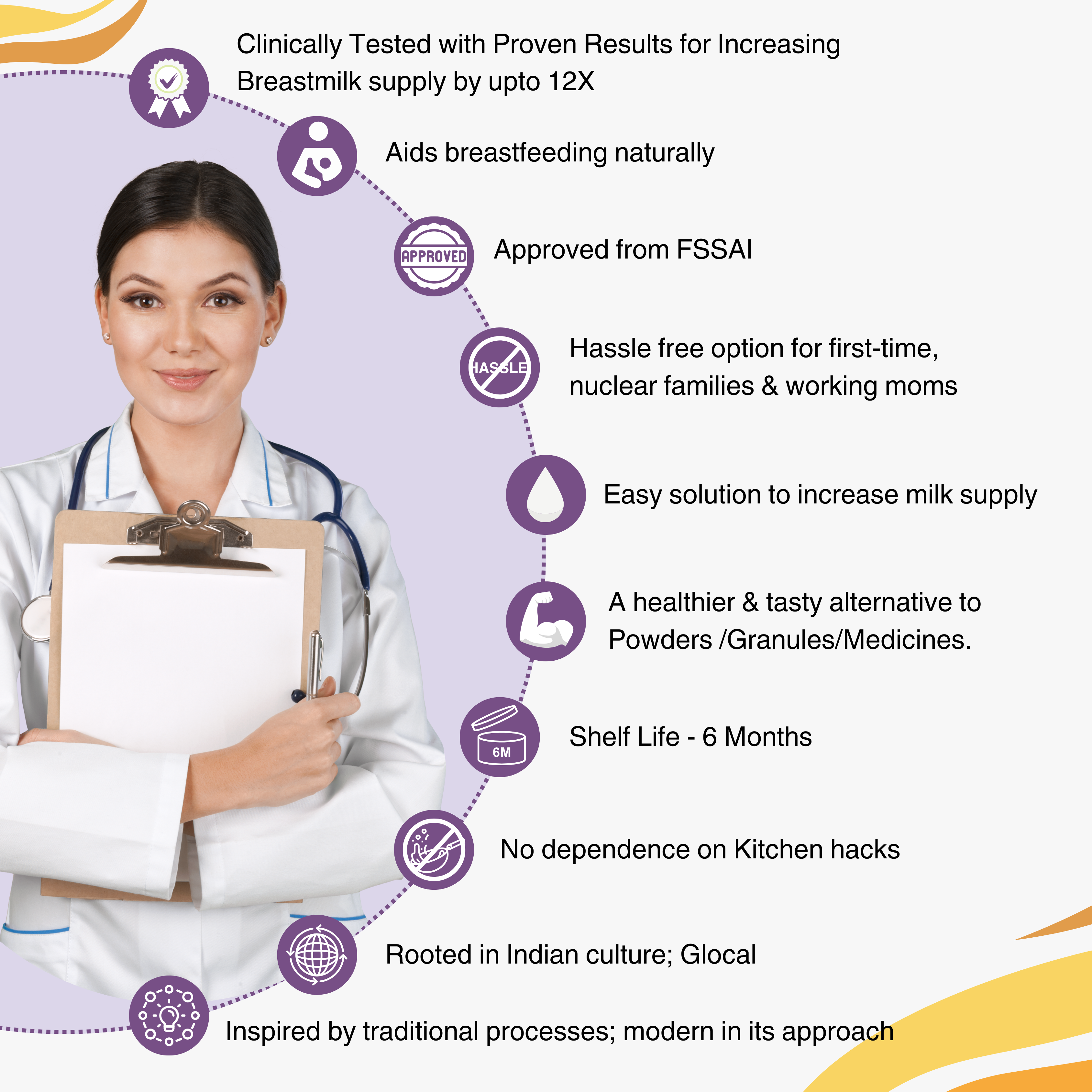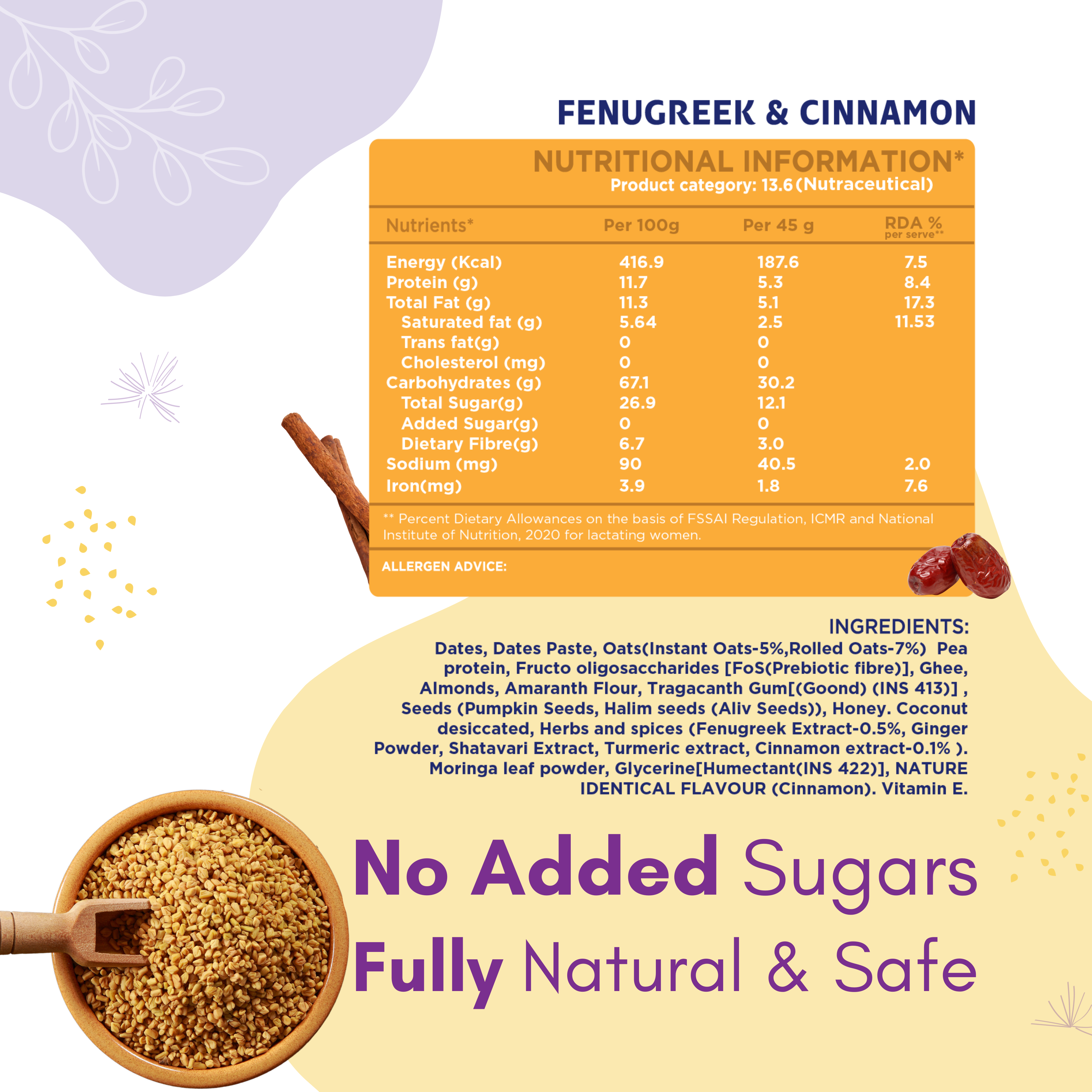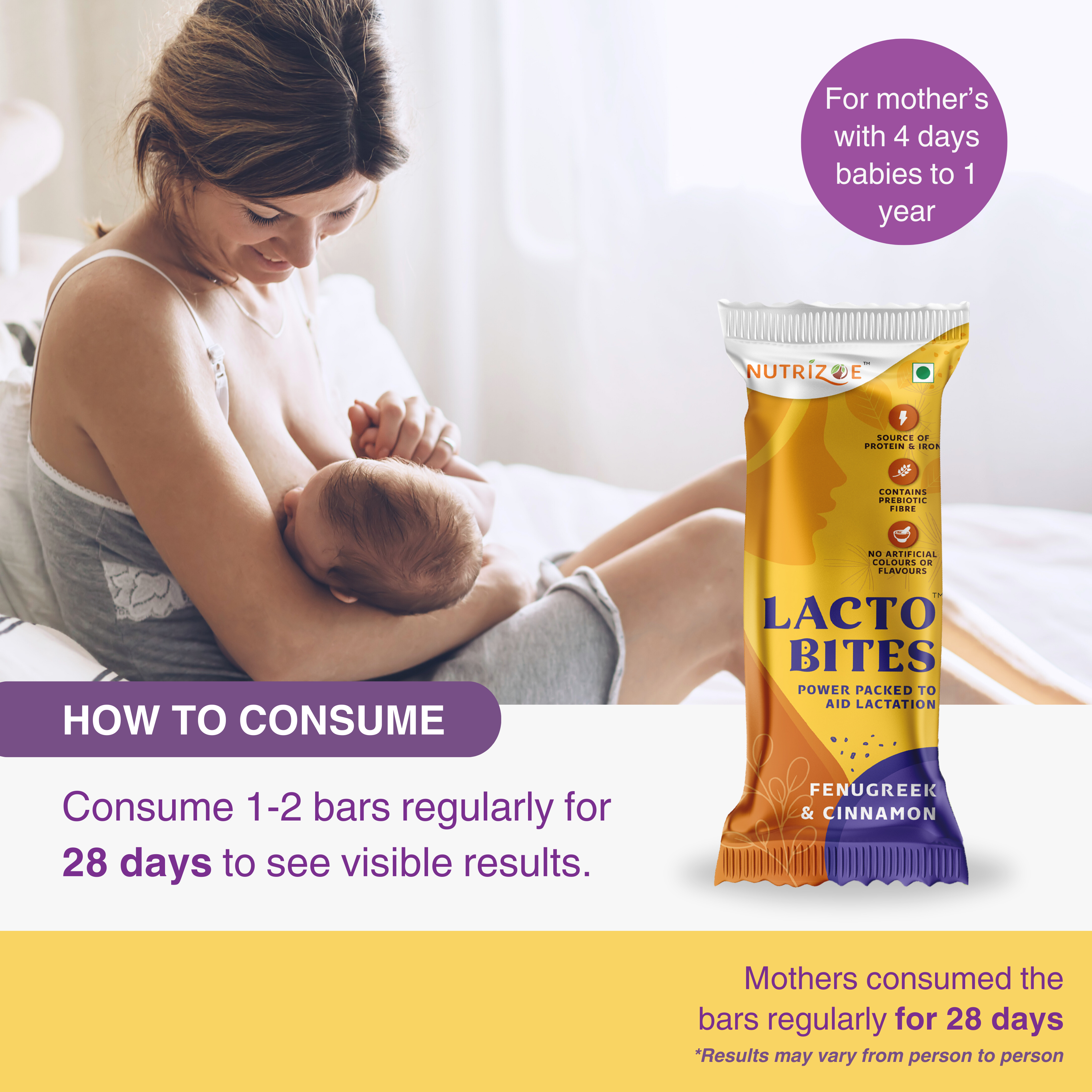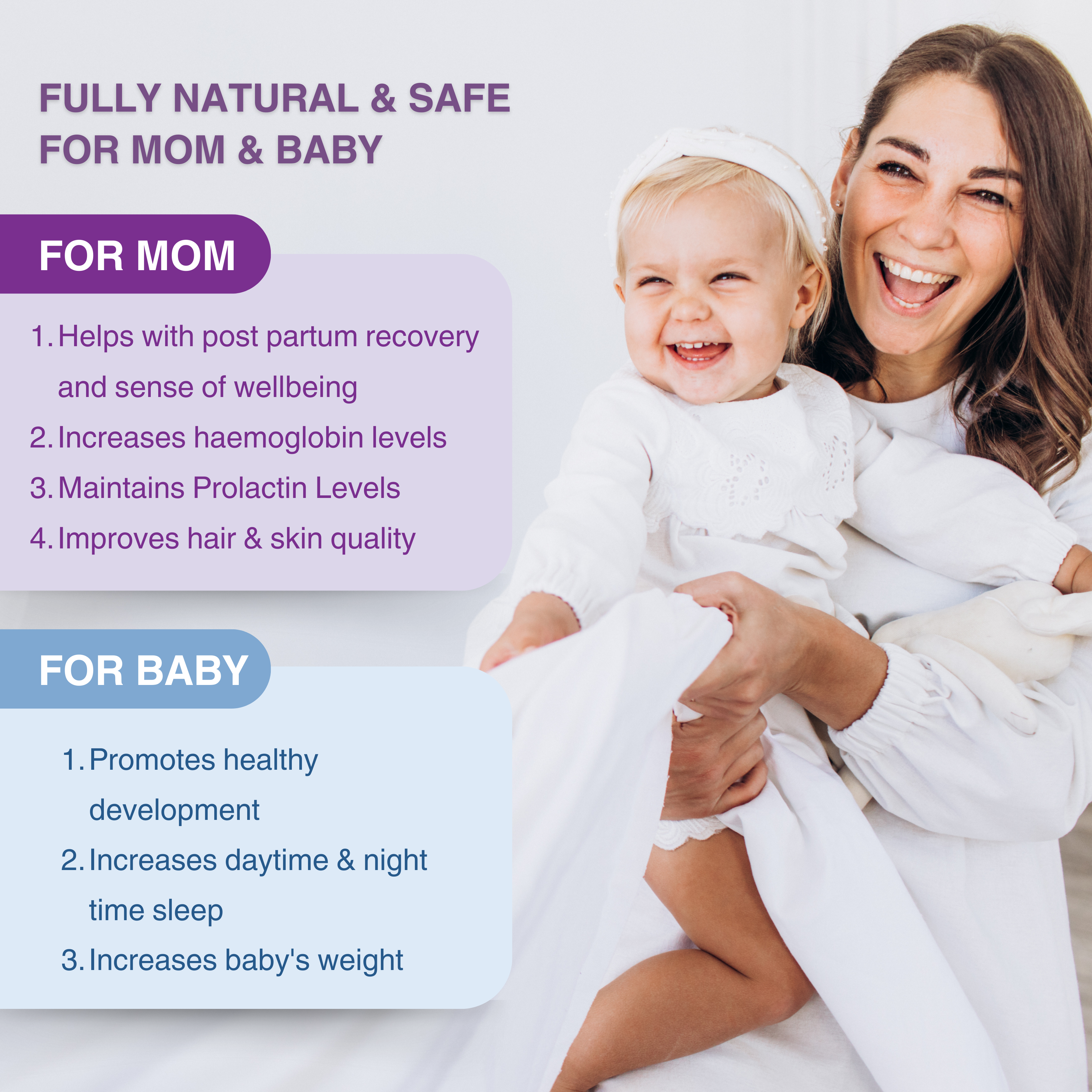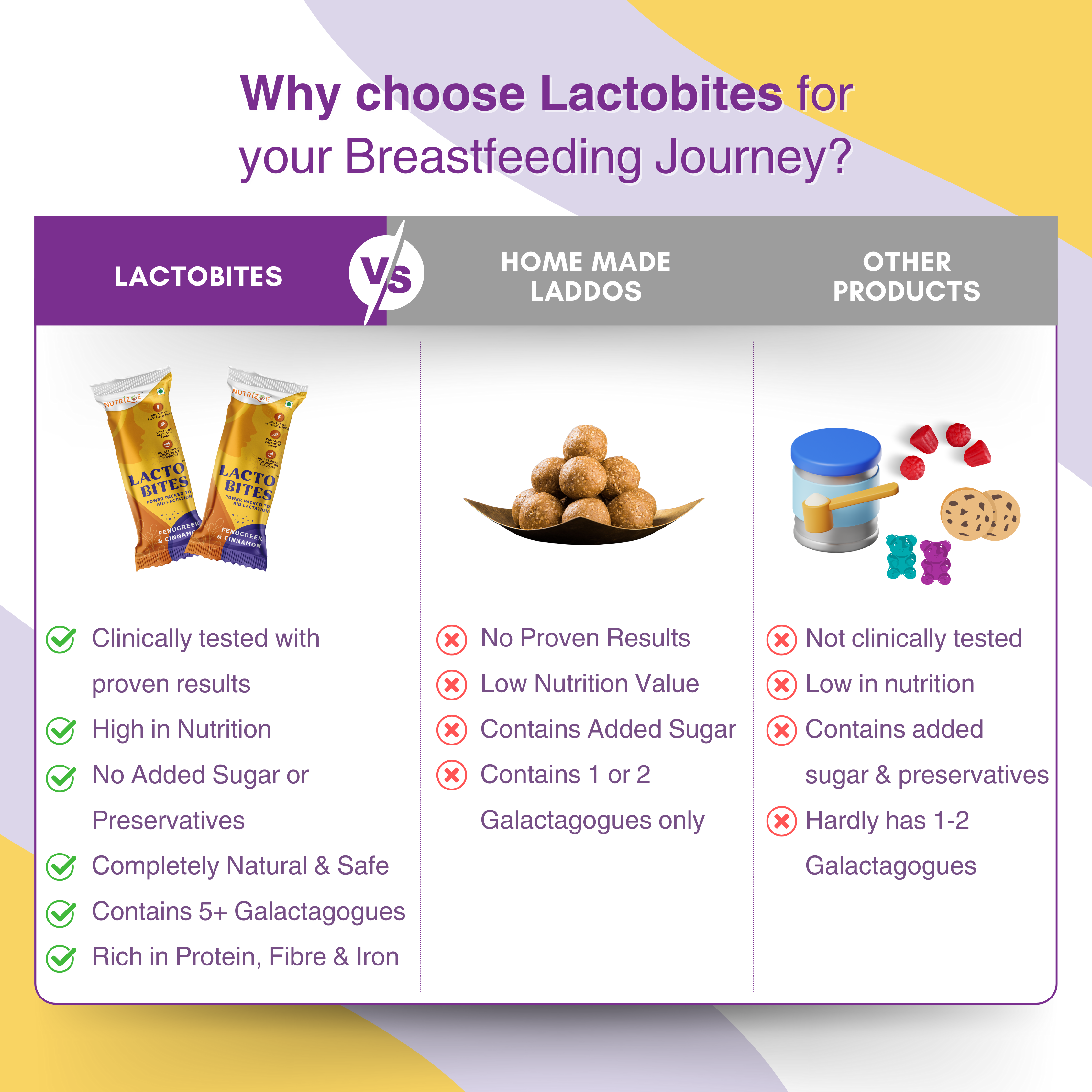 Reduces fromula feeding
from 6 to 1 time a day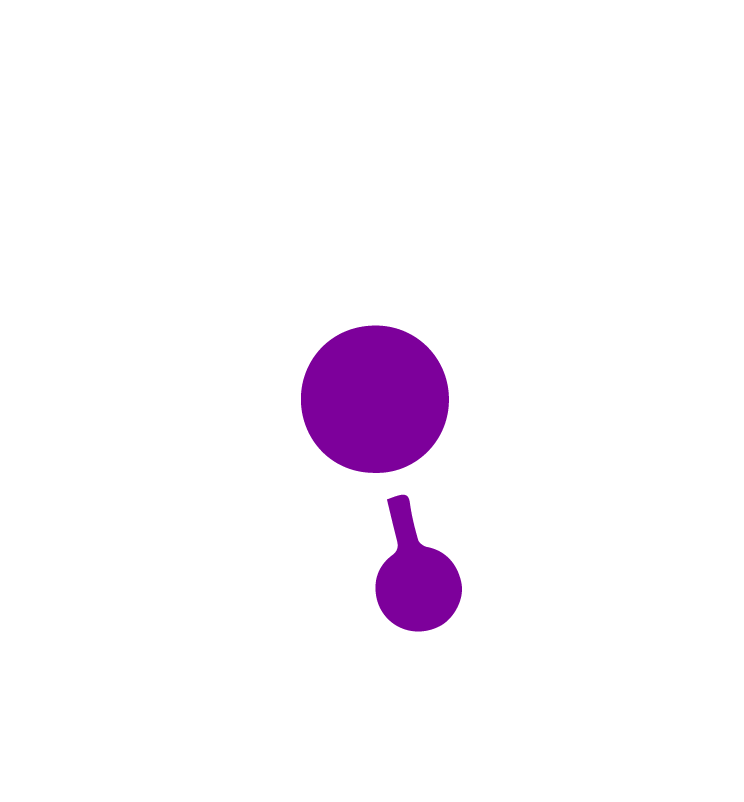 Maintains
Prolactin Levels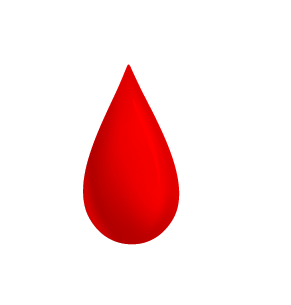 Increases
Hemoglobin by 20%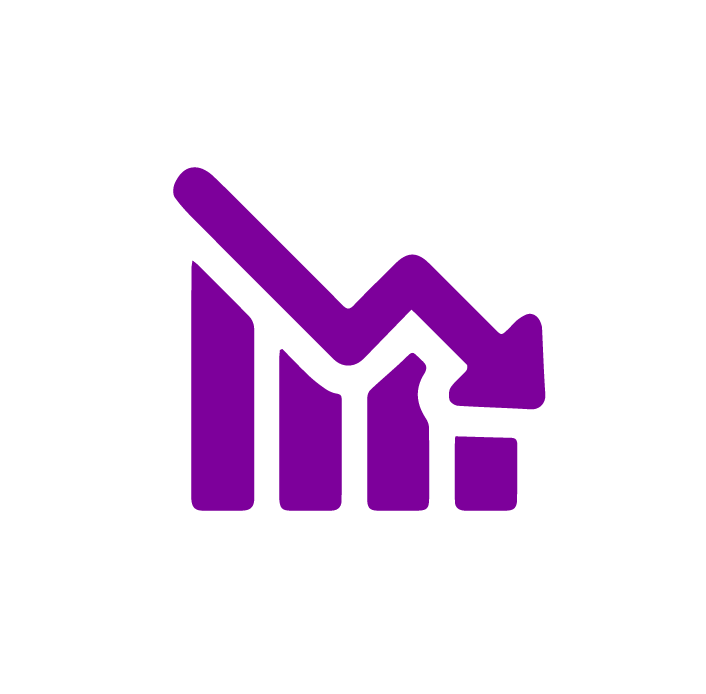 Reduces Breastfeeding
frequency by 30%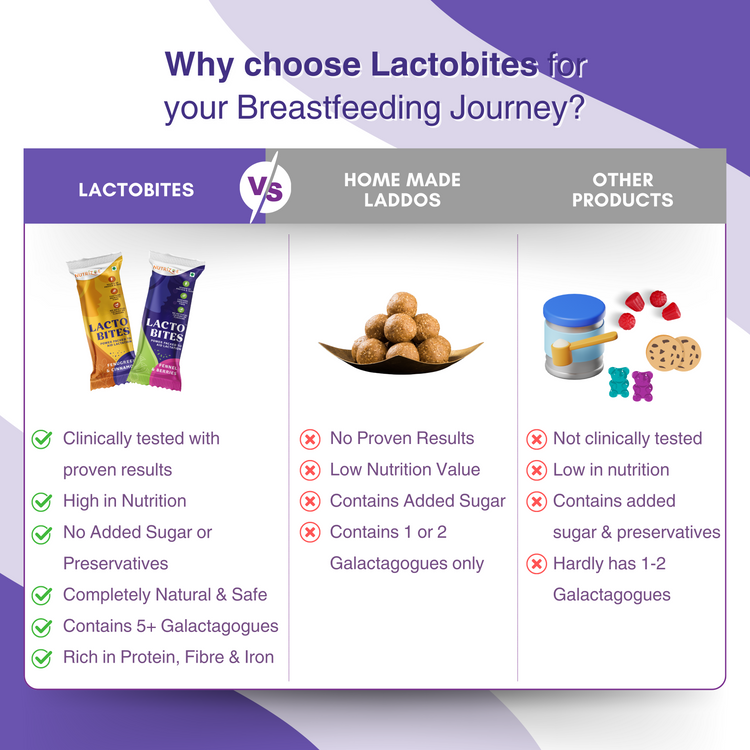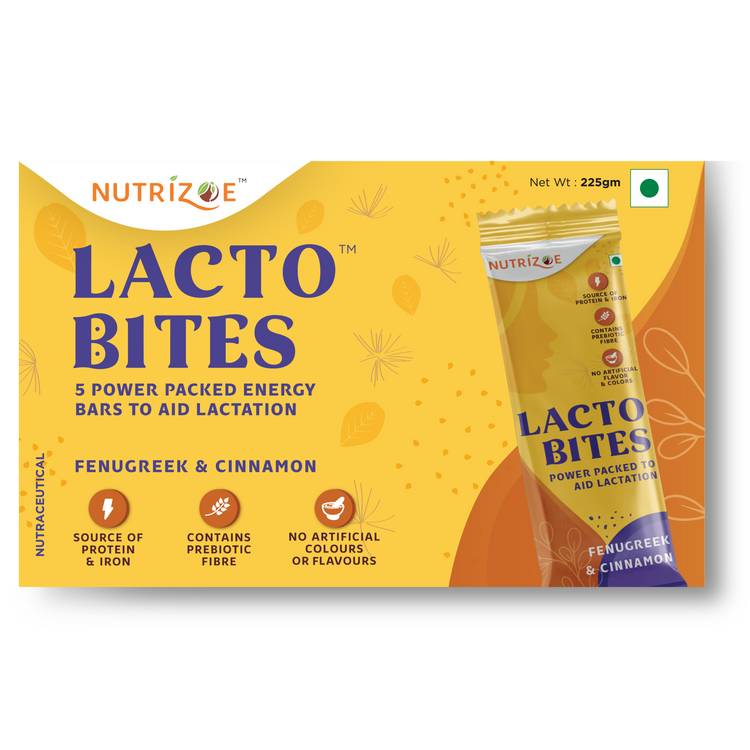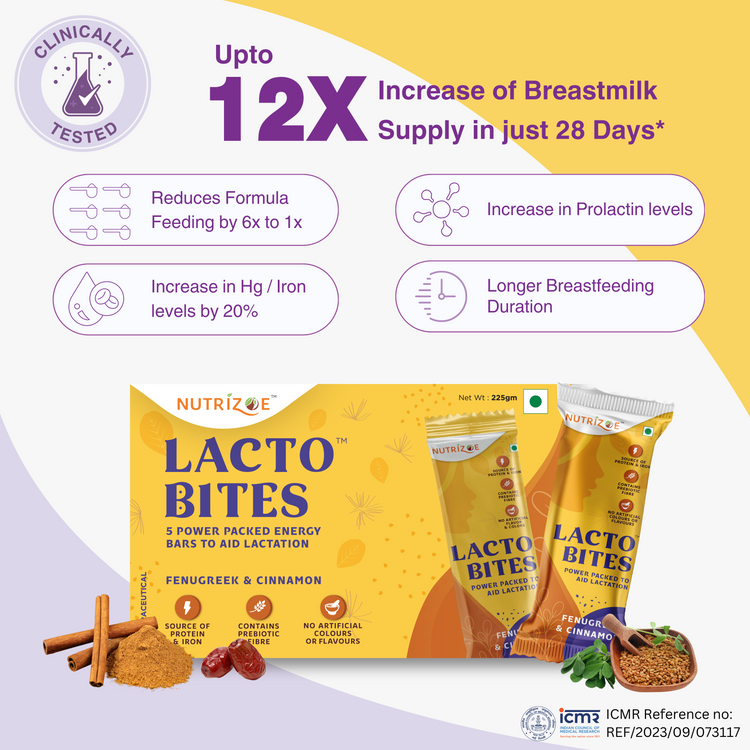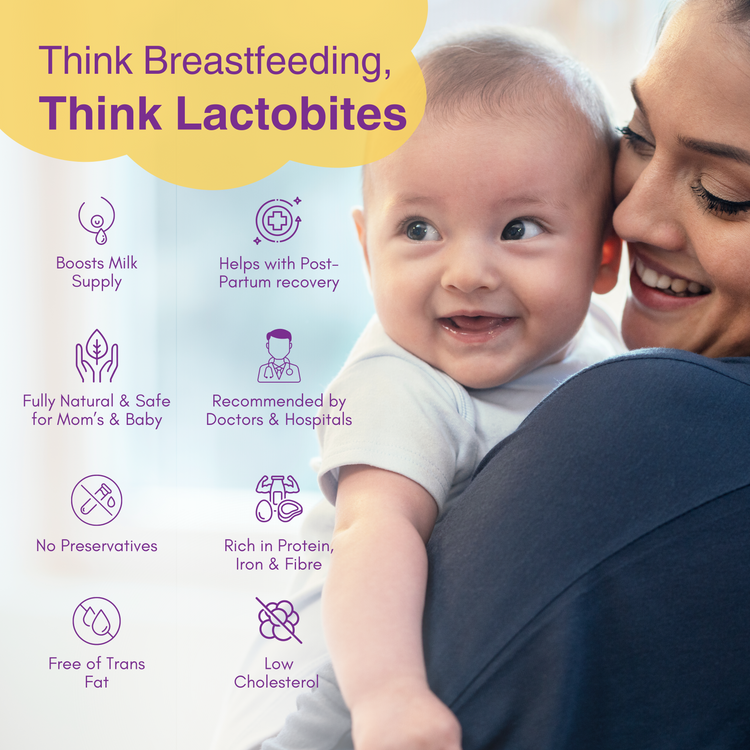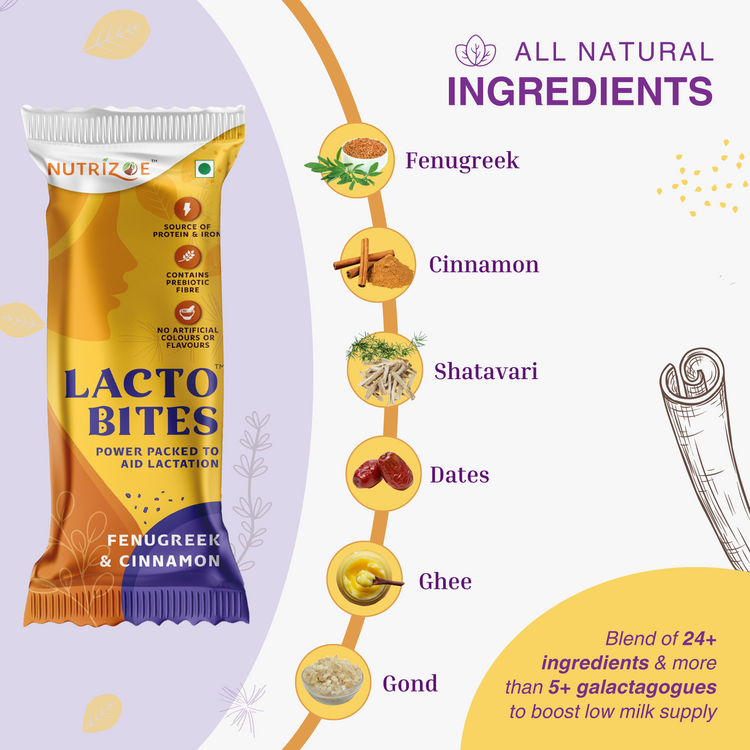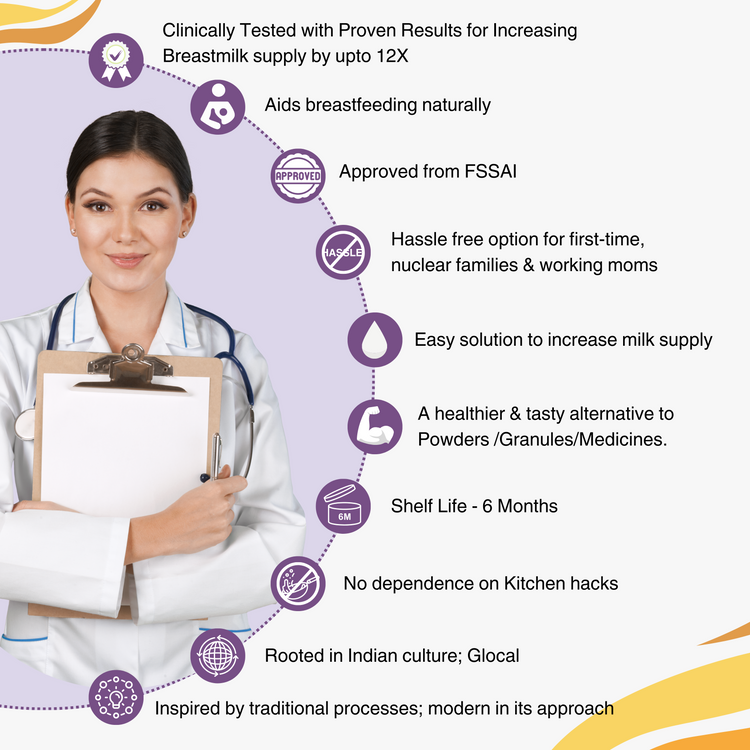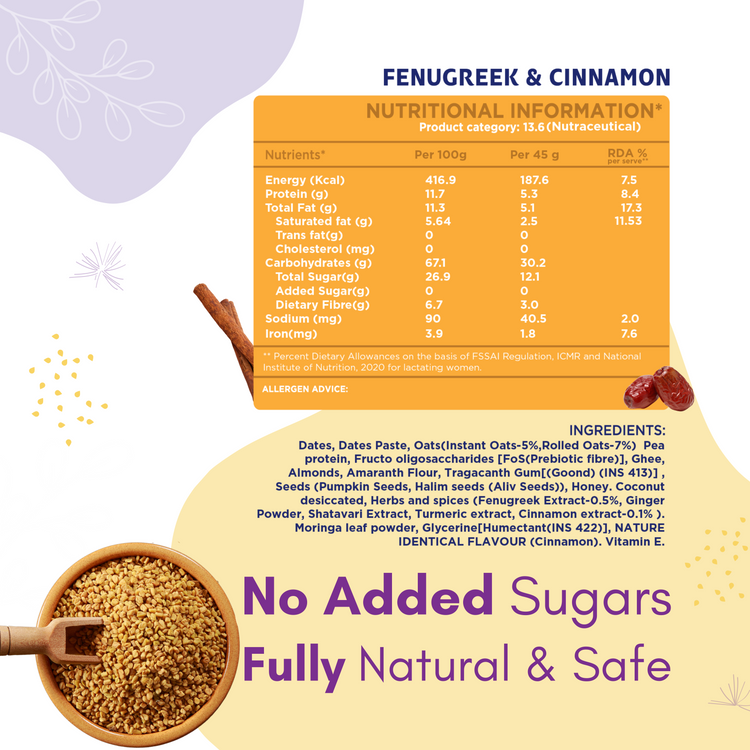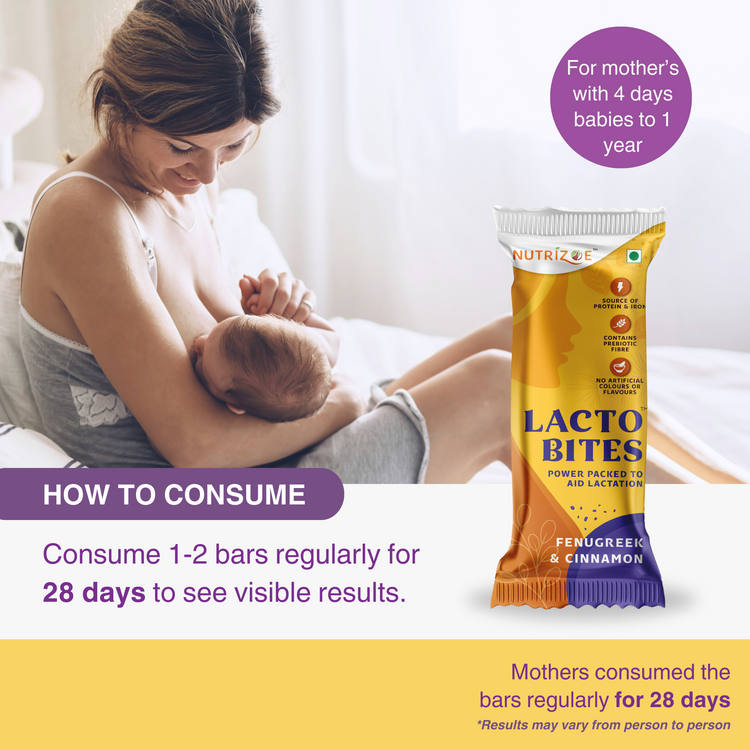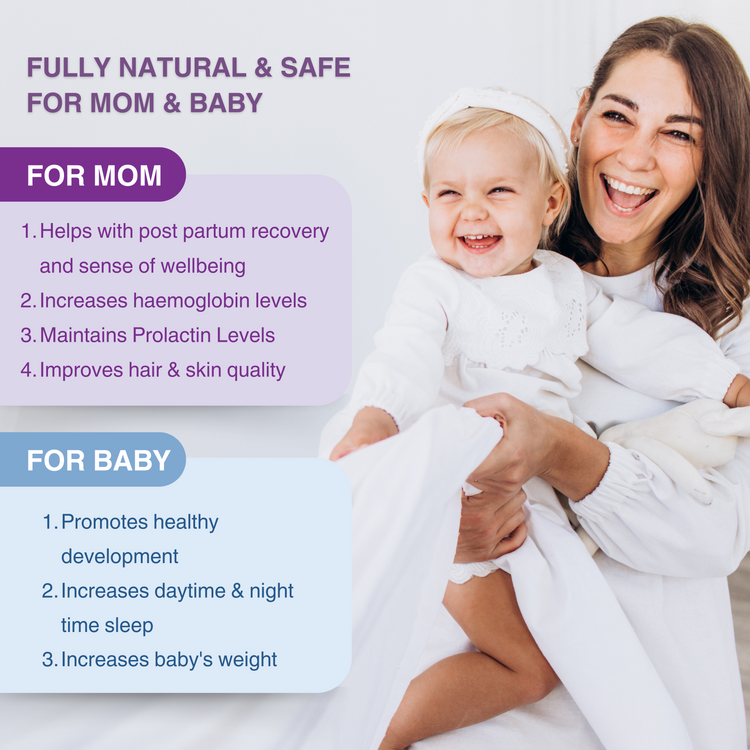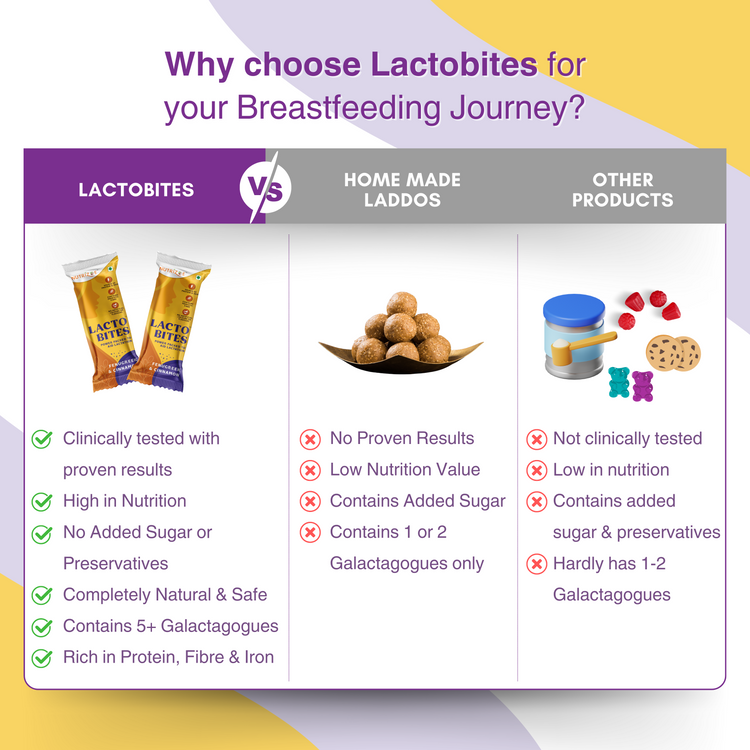 HOW TO USE
SEE WHAT OUR EXPERTS SAY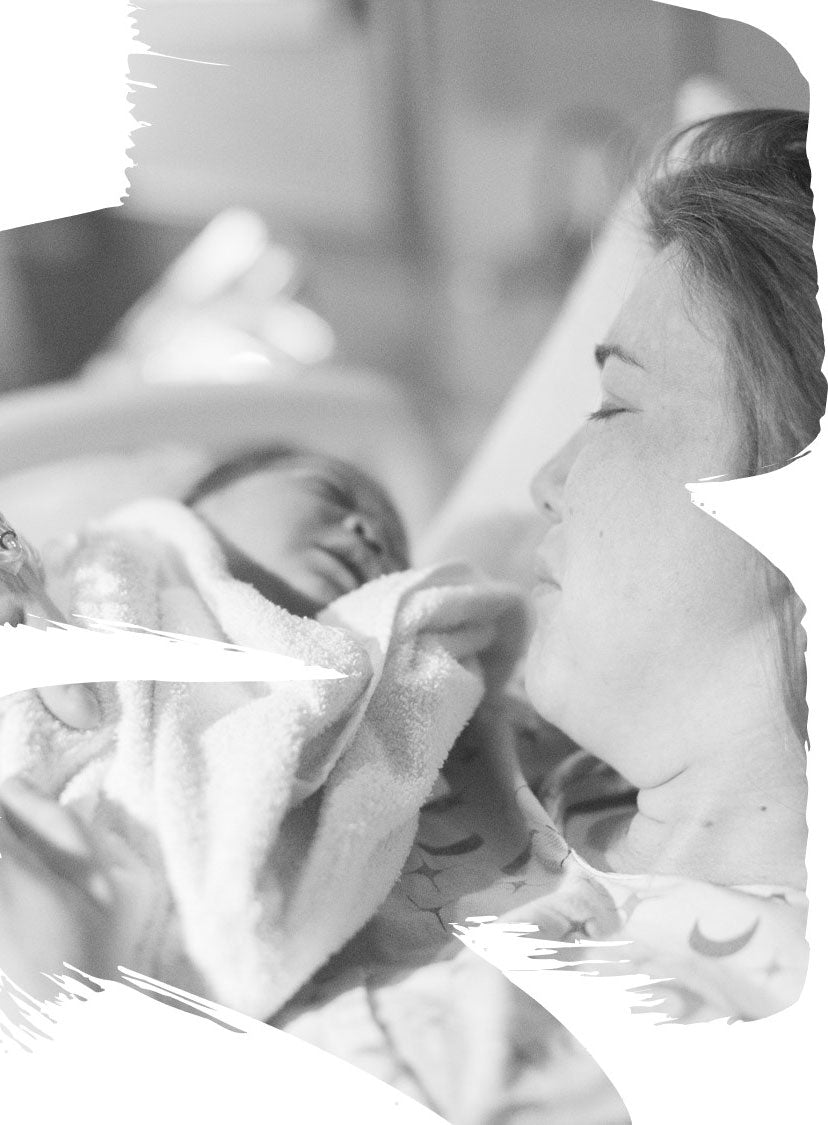 INDICATIONS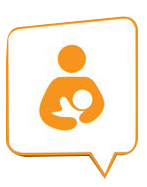 Aides in lactation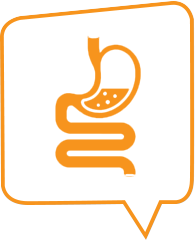 Helps in cleansing the digestive tract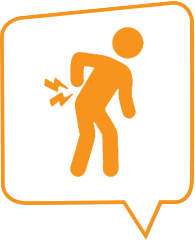 Strengthens the spine & thereby reduces back ache problems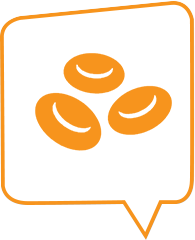 Also aides in regaining lost blood levels during delivery by increasing Hemoglobin levels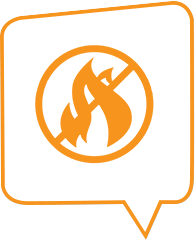 Anti-inflammatory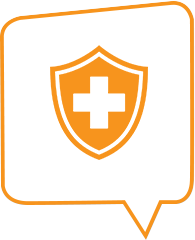 Boosts immunity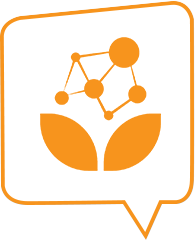 Antioxidant
DIRECTIONS
To be consumed 1 - 2 Bars Daily. For Optimal Results our Experts recommend a course of 28 Days. To be consumed only after delivery of your baby. *T&C Results may vary from person to person.
High in Fiber

Having a High Fibre diet helps you live longer. Blackberries and Cranberries contain 5 grams of fibre which are already there in our bars. Having a High Fibre diet helps you live longer. Blackberries and Cranberries contain 5

Source of Good Protein

Our bars are filled with goodness of protein through plant based pea protein . Almond & pumpkin seeds infused in our bars are rich in calcium , protein & potassium too, that helps recover body

Rich in Iron

Natural Dates & Halim seeds in our bars takes care of your iron needs and infuses you with guilt free energy & takes care of your hunger panks.
WHAT'S INSIDE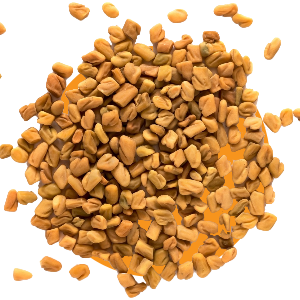 Fenugreek

Fenugreek contains several flavonoids and vitamins which are beneficial for lactating mothers. It also contains phytoestrogen which is like the female hormone oestrogen which stimulates the breast milk ducts to grow,

Fenugreek contains a compound called diosgenin which increases milk flow in lactating women,

Breastfeeding moms find that their breast milk flow increases within 1 - 3 days of starting to consume fenugreek. It has been found that it could take up to 2 weeks to see an increase in breast milk production in some women,

Dosage- 1 to 6 grams daily.
Cinnamon

Cinnamon helps to increase the flow of mother's milk. It will also help in delaying periods after childbirth.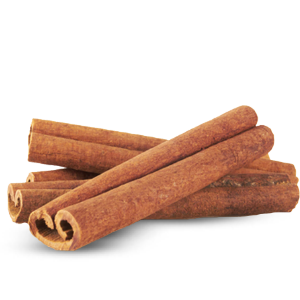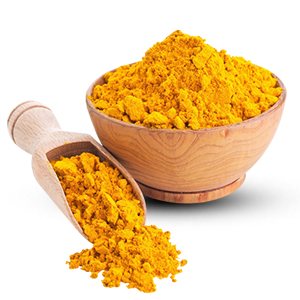 Turmeric

Turmeric possesses lipopolysaccharide, which strengthens body's immunity. The herb contains antifungal, antibacterial, and antiviral properties that help enhance immunity and protect from cough, cold, and the flu while nursing your baby.

Many women are unable to breastfeed their baby properly due to clogged mammary glands and swollen breasts, which are quite painful. Turmeric while breastfeeding helps minimize breast inflammation and helps them to feed their baby properly.

Turmeric reduces serum cholesterol levels, regulates the rise in cholesterol, and prevents the risk of several cardiovascular ailments.

Turmeric is popular for its anti-inflammatory properties that help prevent osteoarthritis and rheumatoid arthritis.

Turmeric helps regulate body weight, increase the flow of bile, and prevent the risk of weight gain, and obesity for lactating moms.
Shatavari

Shatavari contains bioflavonoids that are plant compounds that have antioxidant properties and can fight free radicals in the body that cause ageing and cell damage.

It is Anti-inflammatory, Itboost immunity, Helps increase milk production,

Shatavari improves immunity and aids the body in fighting off infections. It also contains compounds that act as antidepressants. Thus, it can prevent postpartum blues or depression that often affects nursing mothers.

The herb is good for the digestive system. It can give relief from diarrhoea, digestive tract inflammation, and heartburn.

It also contains trace minerals like zinc, manganese, selenium, potassium, copper, cobalt, calcium, and magnesium that are essential for our bodies. This herb also contains vitamin A and vitamin B, and essential fatty acids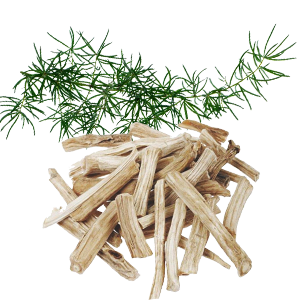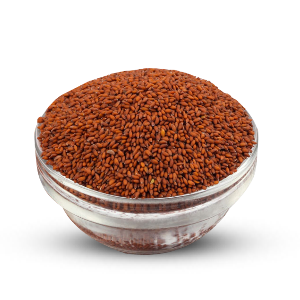 Halim Seeds

Garden cress seeds are very high in Iron and Folic acid content. These seeds are use as herbal medicine to treat iron deficiency / Anaemia. People consuming 2tsp/day have seen to have good increased levels of haemoglobin over a period of 1-2 months.

Garden Cress seeds are loaded with not just protein, but also linoleic and arachidic fatty acids.

It is also seen that cress seeds have anti-hypertensive property. It has diuretic property due to which it has blood pressure lowering property.